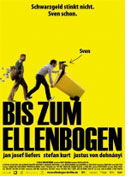 Opening 1 Nov 2007
Directed by: Justus von Dohnanyi
Writing credits: Justus von Dohnanyi
Principal actors: Stefan Kurt, Jan Josef Liefers, Justus von Dohnanyi, Susanne Wolff, Antoine Monot Jr.
Sven, Achim and Willi have nothing in common except for the fact they all happen to be vacationing in an idyllic mountainous corner of Switzerland at the same time. Their paths cross when Achim (Jan Josef Liefers), on his mountainbike, collides with Willi (Stefan Kurt), leaving Achim with a concussion and Willi with a ruined tent. Sven (Justus von Dohnányi, who also directs), who is renting a cabin just down the road, comes to their rescue and invites the two to stay with him. Achim, who's taken one too many chances in his father-in-law's company, and Willi, an unemployed electrician and erstwhile inventor, are like oil and water, but Sven, a bank employee in a dead-end job, is delighted to have company. He serves as mediator and after a few days and as many bottles of wine, the three share a nice camaraderie. Unfortunately, a freak accident leaves Achim and Willi confronted with Sven's corpse. They decide to fulfill his wish for a burial at sea at Ellenbogen, the northern tip of Sylt. Achim, however, has an ulterior motive. Prior to his death, Sven told of his boss at the bank and the illicit funds that are stored in the safe there. Achim has his eye on the money and conceives a plan to get it.
So they hit the road, traveling from Switzerland to the northern tip of Germany. Along the way Achim and Willi make their way in and out of several sticky situations trying to keep Sven's "condition" under cover, dealing with everything from a curious border patrol guard to a psychotic neighbor to a rude waiter. But three quickly becomes a crowd as Sven's body begins to decompose and rigor mortis sets in. Undaunted, Achim and Willi carry on, hopeful that their somewhat far-fetched plan to get at the cash will succeed.
Made on a shoestring budget, Ellenbogen is a clever film using modest means to create a black comedy that is part road-trip film, part buddy film and part heist film. The three protagonists were all colleagues at Hamburg's Thalia Theater, and their close work together on the stage enabled them to recreate their intimacy and camaraderie on the screen. They give straightforward, character-driven performances with just the right touch of craziness to make them sympathetic. The situational comedy, while somewhat absurd, is carried out with incredible ease, and there were numerous laugh-out-loud moments throughout the film. While the viewer has to allow for considerable suspension of belief in many of the scenes, the characters are so guileless that it's easy just to sit back and enjoy the comic timing and dialogue. This entertaining and good-natured film, full of sunny mountain and ocean shots, may be just the thing to give you a break from the grey and rainy fall/winter weather. In German. (Erica Fox Zabusky)