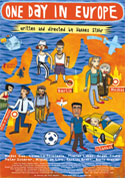 Opening 7 Apr 2005
Directed by: Hannes Stöhr
Writing credits: Hannes Stöhr
Principal actors: Megan Gay, Luidmila Tsvetkova, Florian Lukas, Erdal Yildiz, Miguel de Lira
"Four cities, eight languages and a wave of robberies on the day of soccer's Champion League Final. Welcome to Europe." Hannes Stöhr has written and directed a film composed of four stories that poke fun at living and traveling in the new and expanding European Union. Most of us have our own frustrating little travel stories and can readily sympathize.
British Kate gets into the wrong taxi in Moscow and is quickly the victim of a robbery. With the help of Russian-speaking witness Elena, she eventually gets the necessary insurance documents from the local police, who would much rather just watch the soccer game. While traveling in Istanbul, German Rocco fakes a robbery for the insurance money and needs the assistance of a Turkish taxi driver, Celal. When the local police, not quite convinced by his story, force him to look at thousands of mug shots, Celal, for a price, gets him out and together they watch the soccer match with Celal's friends and neighbors.
Hungarian Gabor, struggling with thoughts of suicide, makes a two-year pilgrimage in Spain to visit all the holy cathedrals, ending at the Plaza de la Quintana in Santiago de Compostela. When he asks someone nearby to take his picture he loses his digital camera with 500 photos. The local police chief and town womanizer Barrriera tells him not to despair, "It's not the photos, pilgrim, it's the way" and turns his full attention back to watching the soccer game. In the last vignette French street performers Claude and Rachida are out of money in Berlin and decide to fake a mugging for the insurance money. Their story to the police becomes less and less believable as the description of the thugs changes from Turks to Russians to Turkmenistans – oh, what's the difference!
Stöhr comments, "someday there will be a United States of Europe with Istanbul and Moscow too. And how will we communicate among ourselves? I'm placing my bet on European English, peppered with Leitmotiv and kaputt, with mise en scene and siesta, with ciao and chill-out area, with nasdrovje and merhaba." Cie la vie.
Note: Hannes Stöhr also directed Berlin Is In Germany (2001), which won many prizes including the German Film Critics Award, the Panorama Audience Award at the Berlinale and Studio Hamburg's Newcomer Prize. (Patricia Ritz)