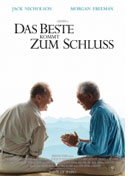 Das Beste kommt zum Schluss (The Bucket List)
U.S.A. 2007
Opening 24 Jan 2008
Directed by: Rob Reiner
Writing credits: Justin Zackham
Principal actors: Jack Nicholson, Morgan Freeman, Sean Hayes, Beverly Todd, Rob Morrow
Rob Reiner directs Jack Nicholson and Morgan Freeman in a touching comedy/drama, written by Justin Zackham.
Billionaire and hospital owner Edward Cole (Nicholson) finds himself sharing a hospital room with car mechanic Carter Chambers (Freeman). Cole's own PR machine obliges him to accept the "no exception to the two-beds-in-a-room policy", forcing him to interrelate with Chambers. Despite their extreme differences, a friendship gradually develops, and when both are diagnosed with just six to twelve months left to live, they decide to take a journey together. The intention is to cross off everything on their Bucket List: a list of all the dreams they had hoped to realize before "kicking the bucket".
Their journey takes them to every corner of the world, sharing the thrills of sky-diving and high-mountain trekking, the beauty and mystery of the Taj Mahal, and the pleasure of superb wining and dining; but it is primarily the journey of the two human beings that imbues the story with charm: the journey towards themselves, each other and their families.
In The Bucket List, Nicholson and Freeman's relationship develops with the exquisite credibility one would expect from these two actors, well supported by Sean Hayes as Cole's assistant Thomas, and Beverly Todd as Chambers' wife, Virginia. (Osanna Vaughn)