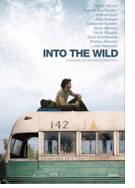 In die Wildnis (Into the Wild)
U.S.A. 2007
Opening 31 Jan 2008
Directed by: Sean Penn
Writing credits: Sean Penn, Jon Krakauer
Principal actors: Emile Hirsch, Marcia Gay Harden, William Hurt, Jena Malone, Brian Dierker
When I was about 10 years old, I read My Side of the Mountain, a story about a boy who runs away from home with a penknife and an axe and learns to live off the land in the Catskill Mountains for over a year. I was so enthralled by this idea, I began secretly packing supplies and planning how I would escape a difficult childhood, and survive the winter, alone and free.
Christopher McCandless, the real life subject of Into the Wild, had the same dream, and followed that dream. Deeply influenced by the writings of Henry Thoreau and Jack London, he donates his life savings to charity after graduating from college and sets off penniless on a cross-country pilgrimage that lasted two years and culminated in his ultimate goal, the untamed wilderness of Alaska.
During his many adventures along the way, including losing his car in a flash flood, kayaking down remote areas into Mexico, working in wheat fields, and foraging for food in the wild, he is driven by idealism, spirituality, a need to test himself, a contempt for materialism, and the need to distance himself from a bitter and violent upbringing. Whether he ended up as an inspirational hero, or an arrogant, unprepared brat, is in debate. But I don't think anyone can deny the courage it took to pursue freedom and follow his dream; and that is what came through in this touching film.
Sean Penn directed and wrote the screenplay, based on the best-selling book by Jon Krakauer. He does a wonderful job of introducing the loving perspective of Chris's younger sister, and the cinemotography is often breathtaking, filmed at the exact locations where Chris actually traveled. The film has top-notch actors, including William Hurt, Vincent Vaughn, and Marcia Gay Harden, but it is Emile Hirsch's sensitive portrayal of Christopher McCandless that gives the film real depth. I also enjoyed the soundtrack, featuring several new acoustic tracks by Eddie Vedder of Pearl Jam.
If you have ever dreamed of breaking free from the confines of society, this film is for you. (Shawn Klug)