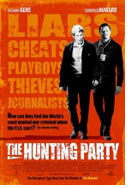 Opening 29 Nov 2007
Directed by: Richard Shepard
Writing credits: Richard Shepard
Principal actors: Terrence Howard, Richard Gere, James Brolin, Gordana Vukres, Jesse Eisenberg
Director Richard Shepard (Oxygen and Mexico City) has fashioned a film meant to portray the absurdities experienced by journalists covering wars in places like Iraq, Somalia, El Salvador or Bosnia, where this particular film is situated. Unfortunately the absurdities overwhelm the film, deleting the suspense and making a mixed-message film which prevents the viewer from any emotional identification – except for one brief scene.
Simon Hunt (Richard Gere) plays the part of a war-happy television journalist, who, with his cameraman Duck (Terence Howard) has earned a prize-crowned reputation for vivid, on-site reporting in the most violent places on the globe. Then Hunt has a complete breakdown on a live broadcast from Bosnia and is summarily fired by the star anchorman. (Franklin Harris, a ridiculously coiffed and artificially pompous James Brolin whom no self-respecting TV network would put on camera.)
Five years later: Duck, promoted to head cameraman at the network (a job no self-respecting, field-experienced cameraman would want), shows up in Bosnia with Harris and a junior reporter (who looks about fifteen but keeps talking about having gone to Harvard), the son of the network's senior VP (Jesse Eisenberg). Duck finds Hunt there – a total wreck, alcoholic and broke. Hunt has a "big story" with which he hopes to regain his credentials and take in a five-million-dollar reward at the same time: the capture of a major Serbian war criminal, "Dr. Bogdanovic," who was responsible for the rapes and deaths of thousands of Muslim women in the ethnic cleansing of Bosnia. Hunt and Duck, along with the kid reporter, take off after the killer. And things get more absurd by the minute, except for that one, unexpectedly touching scene where the real reason for Hunt's breakdown is revealed.
I wouldn't book a babysitter for this one, but it may be a good DVD. (Adele Riepe)