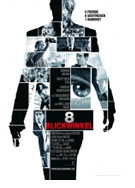 8 Blickwinkel (Vantage Point)
U.S.A. 2008
Opening 28 Feb 2008
Directed by: Pete Travis
Writing credits: Barry Levy
Principal actors: Dennis Quaid, Matthew Fox, Forest Whitaker, Bruce McGill, Edgar Ramirez
Starring Dennis Quaid (The Right Stuff, Far From Heaven), Matthew Fox (We Are Marshall, TV series Lost), Forest Whitaker (The Last King of Scotland), William Hurt (History of Violence, Children of a Lesser God) and Sigourney Weaver (Gorillas in the Mist, Galaxy Quest), Vantage Point is a high-paced drama directed by Peter Travis (Omagh) with screenplay by Barry L. Levy (Rainbox Six).
Set in Salamanca, Spain, Vantage Point opens inside a mobile news unit, where producer Rex Brooks (Weaver) is doing an impressive job of juggling between camera angles and reporter commentaries, covering the opening ceremony of an anti-terrorism summit, attended by U.S. President Aston (Hurt). In the middle of the proceedings two shots ring out, hitting the president square in the chest; two subsequent explosions add to the ensuing pandemonium, while utter shock settles over the broadcasters.
The clock is turned back half an hour and we see the story replayed from the vantage point of Thomas Barnes (Quaid), a secret service agent who himself has already caught a bullet in the chest protecting this same president. His tense perspective, eyes darting from one possible threat to the next, adrenalin pumping and palms sweating, presents a different angle to the drama.
Over half a dozen times, the clock is rewound, each time telling a different story: Howard Lewis (Whitaker), an amiable tourist turned high-powered cameraman hot on the trail of the terrorist suspects with his camcorder; a killer and kidnapper, wanting out but forced to act one last time to save his brother's life; Kent Taylor (Fox), Barnes' partner, who is not quite what he seems; the president who... but was it actually the president?; the network of accomplices who seem to have infiltrated every possible venue and task force to achieve their aims.
Not a dull moment in this high-paced movie, though a certain suspension of belief may be necessary to take best advantage. Repeating a story from so many angles while keeping up the viewer's interest is certainly a challenge that director Peter Travis pulls off quite successfully, supported, of course, by a group of tried and true actors. (Osanna Vaughn)