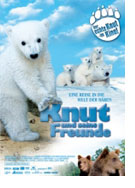 Knut und seine Freunde
Germany 2008
Opening 6 Mar 2008
Directed by: Michael G. Johnson
Writing credits: Theresa Alto, Rainer Bergomaz, Svetlana Egorova, Michael G. Johnson

Knut und seine Freunde is a documentary about the polar bear, Knut, born at the end of 2006 in the Berlin Zoo.  For a polar bear to be born in captivity and live is a seldom occurrence, not only that, but Knut's mother rejected him as a baby.  Thanks only to Knut's father-substitute and zoo keeper, Thomas Dörflein who raised him, does this story have a happy ending.  This amazing event caused excitement all over the world.  This adorable film takes you from Knut's first steps out in the open at the Berlin Zoo to his rise to Super Star!  To promote the good message about global warming and possible extinction of animals like the polar bears, there are two other animal families documented alongside with Knut.  The message must have worked because later that night, when I was letting the water run to warm up before I washed my face, my six-year-old son said "Mama, you are killing the polar bears!"  I was there with my twin boys and Tracy Moede was there with her two daughters.  We interviewed them.
What did you learn about polar bears? 
Allison:  that polar bear babies scream like human babies! 
Rebecca:  that the Father was very aggressive to the Mother and babies when he saw them in the wild and the Mother tried to fight him to go away. 
Timmy:  they are very cute and cuddly when they are young but the trainer cannot go in the cage now when he is big because it is too dangerous. 
Toby:  I learned that polar bears live in the ice and that brown bears catch fish even when they are six months old if they have to.
Did you like the film? 
Allison:  yes but the "Friends" song over and over was boring. 
Rebecca:  yes but I recommend it for kids under 10. 
Timmy:  thumbs up! 
Toby:  I did not like to sit still when Knut was not on.
Was the film sad? 
Allison:  it was sad that the brown bear's Mother died (leaving twin five-month-old babies alone to fend for themselves and they did!). 
Rebecca:  it was horrible that Mommy polar bear had to leave with the babies when the Father bear came towards them (in the wild scene in the artic). 
Timmy:  it was sad that Knut's Mother did not want to take care of him. 
Toby:  it was sad that Knut was not staying by his Mother.
Anything else interesting? 
Allison:  interesting to see all the people come to Berlin Zoo to see him. 
Rebecca:  impressive that the trainer Thomas Dörflein lived in the zoo to raise Knut. 
Timmy:  I want to go see Knut! 
Toby:  kids can buy all kinds of cute Knut toys.
Thanks kids! (Vicki Filer Mensing)