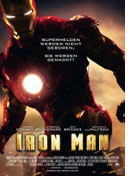 Opening 1 May 2008
Directed by: Jon Favreau
Writing credits: Mark Fergus, Hawk Ostby, Art Marcum, Matt Holloway, Stan Lee
Principal actors: Robert Downey Jr., Terrence Howard, Jeff Bridges, Gwyneth Paltrow, Leslie Bibb
What do comic books and movies have in common? Marvel – whose superhero comic book characters of the 1960s attracted new readers – is now drawing audiences with larger-than-life celluloid images of Spider Man, the Incredible Hulk and hold on to your seat because here comes… Iron Man.
Billionaire industrialist Tony Stark (Robert Downey, Jr.) on paper has credentials to die for: handsome inventor, head of a multinational conglomerate of technology companies, military contractor, philanthropist, adventurer and socialite. We meet the real Tony: boozer, beguiler of women and gambler who alternates between glib, persuasive or smooth responses depending on who he is talking to, and thinks the world can… wait for him.
When Tony is put in a life-threatening situation, instead of building a devastating weapon he uses his gifted intellect and ability to improvise to make an armor suit to save himself and fellow prisoner Yin-Sen (Shaun Toub). Yin-Sen says to him, "Don't waste your life". Returning to the United States he slips back into his world as the public face and to all intents and purposes head of Stark International. Affected by his harrowing experience, Tony ultimately decides to use technology to fight against evil.
Tony works on a more sophisticated version of the armor suit from his workshop in his stupendous, cliff-hanging Malibu home with help from executive secretary Virginia 'Pepper' Potts (Gwyneth Paltrow). Pepper has worked for him for years. With a cool demeanor she holds her ground when they disagree and calmly cleans up the messes Tony leaves in his wake. Tony and Pepper realize how interdependent their relationship is as the action unfolds.
Obadiah Stane (Jeff Bridges), trusted mentor who has been with the company since founded by his father, as C.E.O. of Stark International deflects a company crisis to protect Tony upon his return. Tony overlooks chameleon "Obay" since his focus is on developing a revolutionary technically powered armor suit. As the military's chief liaison to S.I. weapons division, Lt. Colonel James Rhodes (Terrance Howard) is also Tony's most trusted ally and best friend. It is "Rhodey" that Tony phones to "come take a look" at the quintessence armor suit he has crafted.
Director Jon Favreau, with an excellent screenplay from Mark Fergus & Hawk Ostby and Art Marcum & Matt Holloway, has crafted a comic-movie that honors the Marvel characteristics: a flawed superhero; tackles more serious themes – war endorsement, corporate funded "superheroes"; reflects the spirit of the age – artificial intelligence, a supersonic armor suit, and entertains the (reader) audience.
The casting is spot on: Marvel characters come to life with an ensemble cast of Oscar® nominees or winners. The Tony Stark/Iron Man persona was based on Howard Hughes. Downey Jr. has described his portrayal of Stark as "a challenge of making a wealthy, establishmentarian, weapons-manufacturing, hard-drinking, womanizing prick into a character who is likable and a hero." Tony's easy-going, boyish charm and constant wisecracks make us laugh during the grimmest situations – Downey Jr. gives us a superhero we root for. Bridges deftly evolves Obadiah into a super villain, Paltrow subtly turns up the heat on Pepper's demeanor, and Howard makes us wish for a friend like Rhodey as the tension intensifies.
Iron Man is a testament to the brilliant artists that comprise the special effects and make-up teams. We watch Tony, assisted by his likable robotics develop the superhuman-strong armor suit, with extra goodies such as cybernetics controls and artificial intelligence. When Iron Man soars, we soar and see and experience the persona of Iron Man. Let's go fight the bad guys!
Do not look for a message. The story is solid so settle down, bite your nails, laugh and enjoy yourself. The film's ending leaves no doubt there will be a sequel. If this film's momentum can be maintained, I say, "bring it on"! (Marinell Haegelin)