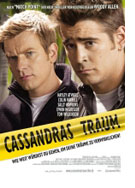 Opening 5 Jun 2008
Directed by: Woody Allen
Writing credits: Woody Allen
Principal actors: Ewan McGregor, Colin Farrell, Peter-Hugo Daly, John Benfield, Clare Higgins
Cassandra's Dream is a modest thriller that taps into some serious moral dilemmas. The film, written and directed by Woody Allen, tells the story of two brothers, Ian (Ewan McGregor) and Terry (Colin Farrell), whose tight-knit relationship is tested beyond its limits.
Terry is an absolute mess. He's addicted to gambling and prescription drugs. As one can imagine he winds up in a whole bunch of trouble. Ian is a dutiful son who helps out at the family's struggling restaurant but believes he is destined for greater things. Ian has higher aspirations in the form of a real estate venture in Southern California. To add further woe to what Ian considers his pathetic life, he finds himself enraptured by an actress, Angela Stark (played wonderfully by newcomer Hayley Atwell), who is way out of his league. He's desperate to land the big deal and will stop at nothing to keep the girl of his dreams. The brothers, in serious financial trouble, look to be saved by their allusive wealthy Uncle Howard (Tom Wilkinson). It turns out that Uncle Howard has serious issues of his own and looks to his faithful nephews to perform one horrible deed. The rest of the film follows the two brothers as they come to terms with their morality and the choices they choose to take in order to dig themselves out of their pending doom. The brothers are tested on multiple levels. Not only are they faced with the overarching moral dilemma, but their loyalty to each other, their parents and themselves is put to the test.
I am a huge fan of Woody Allen, and his recent foray into the dark side has been very interesting to watch. Match Point was OK, but it failed to truly deliver. Cassandra's Dream is much more complete. Allen exposes the frailty of selfish desire and the compelling seduction of risk-taking behavior. My only criticism is that it lags here and there as Allen delves deeper and deeper into the brother's tightly woven relationship.
All of the actors do superb jobs in this film, but Colin Farrell's performance is one worth noting. He does an amazing job taking the demise of his character and making it believable. My apologies to Mr. Farrell. I had him written off as yet another pretty boy!! Who knew? (Karen Engelke)