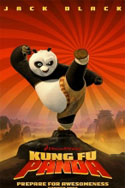 Opening 3 Jul 2008
Directed by: Mark Osborne
Writing credits: Jonathan Aibel, Glenn Berger, Ethan Reiff, Cyrus Voris
Principal actors: Jack Black, Dustin Hoffman, Angelina Jolie, Ian McShane, Jackie Chan
Have you ever imagined living out your wildest fantasy and verbalizing it to a special friend as if they would have the treat of seeing it come true? More than likely, your friend looked you in the eye and slapped you on the back to exclaim, "Ha! Only in your dreams!" DreamWorks' newly-created animated big and furry Chinese Panda, Po (voiced by Jack Black), only dreams of Kung Fu fighting with the best trained legendary martial arts masters of old. However, Po is the village restaurateur's son, known for their delicious noodles. He is to carry on the family business but he has a hard time grabbing on that destiny. His desire lies in the world of fighting bad guys. The latter, exciting many a kid's dream!
Po is locked out of the village festival court, as the Kung Fu Master, Tai Lung (voice of Ian McShane) makes the announcement of the "The Chosen One", designated to carry on the legacy of the mighty warrior of peace. Po, being the village expert historian on China's martial arts and its practices, is more than anxious to see the favored choice; therefore, must find a way inside. Po's home-made rocket, with grandiose explosive power, lands him right in front of the wise master, Lung, during his declaration. The villagers were in shock when Master Lung presents the commoner, Po. It deflates the egos of the closest, revered and trusted friends of Master Lung – the legendary Furious Five – Tigress (voice by Angelina Jolie), Crane (voice by David Cross), Mantis (voice by Seth Rogen), Viper (voice by Lucy Liu), Monkey (voice by Jackie Chan) and their guru, Master Shifu (Dustin Hoffman).
Ecckss! Po was scared! He is awestruck by the task deemed him, which is simply out of his comprehension. He had head knowledge of the great and mighty Kung Fu gurus but not an ounce of physical expertise. He loved to eat; he was over weight and out of shape! Worse yet, the friends of Lung are truly furious for stealing their thunder. However, the wise Master Lung encourages Po that he will indeed fight the bad guys because his understanding is that nothing is by chance, but is always for a reason. He continues to explain, "The past is history, the future is a mystery and what is now, is a gift! There is nothing like the present!" He leaves his friends to conquer the evil snow tiger, and the training of Po, to his most trusted martial artist and friend, Shifu, with sheer delight because he sees that their future is far brighter than exotic escapades of Po's dream to be a gallant Kung Fu Fighter.
Children will be captivated by the Kung Fu Panda narrative as much as the loveable creatures; and, the adults, curious as to DreamWorks' creations in 3D. A fabulous family adventure! (Karen Pecota)