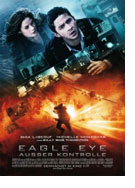 Eagle Eye - Ausser Kontrolle (Eagle Eye)
U.S.A. 2008
Opening 9 Oct 2008
Directed by: D.J. Caruso
Writing credits: John Glenn, Travis Wright, Hillary Seitz, Dan McDermott
Principal actors: Shia LeBeouf, Michelle Monaghan, Rosario Dawson, Michael Chiklis, Anthony Mackie
Two young Afghan boys lead us on a roller-coaster-like ride over a ridge into their village. Cut back and forth between the village, an entourage of slick autos being tracked by nearby US military believing a sought-after terrorist is among them, and to the US Pentagon where the Secretary of Defense Geoff Callister (Michael Chiklis) faces a life-determining decision. The entourage arrives at the village. Callister – bomb them? Aria, the ultra-sophisticated computer does not acknowledge absolute recognition. Flying high in Air Force 1, the President makes the decision.
Break. Front Credits – be in your seats before this film starts! The plot ever-increasingly intensifies. Eagle Eye's triad: Jerry Shaw (Shia LaBeouf), Rachel Holloman (Michelle Monaghan) and FBI Agent Thomas Morgan (Billy Bob Thornton). Shaw, Copy Shop aficionado, attends the funeral of his twin, the favored brother, an Air Force Press aide. When Shaw goes to an ATM machine, his empty account miraculously has a $750,000 balance. Simultaneously single-mom Holloman puts her 8-year old son on a train to Washington, DC where his school band will perform at the Kennedy Center. Her rare evening out with friends is cut short. In parallel life-altering phone calls, a mysterious woman's voice takes control and dictates their every move, throwing strangers together in progressively more dangerous and life-threatening situations.
FBI Agent Morgan nabs then loses Shaw, which plunks him squarely in the center of this fast-paced thriller. Morgan, first to figure out the large-scale picture, gets assistance from A.F. Office of Special Investigation Special Agent Zoe Perez (Rosario Dawson), who is also shrewd at deduction. If pushed hard enough, what are people capable of doing? Virtual intelligence: friend or foe? Imagine being hotly chased through a metropolitan airport and your name, with meticulous directions to elude the pursuers flash on screens that normally give boarding directions. The tempo and pitch are piercing by the time we reach the House Chamber at the U.S. Capitol!
D. J. Caruso's masterful direction retains the edgy mood throughout. Dan McDermott's (story/screenplay together with John Glenn, Travis Wright and Hillary Seitz) myriad storylines keep us guessing; Shaw and Holloman's quips allow us to laugh. One good chase deserves another; Darius Wolski's faultless camerawork takes us on hair-raising rides. Jim Page edits with precision; a noisy gripping action scene is juxtaposed with quietly ripping open an envelope. Jim Rygiel (Visual Effects Supervisor) and team manipulate parameters just enough to accentuate the (we hope) improbable. The triad: LaBeouf, Monaghan and Thornton, with support from a large cast of equally talented actors, excel.
Eagle Eye – Außer Kontrolle has conflict, intrigue, and is a smartly crafted film. Approach the movie this way – the next time you take money from an ATM, smile… you are on (someone's) screen. (Marinell Haegelin)