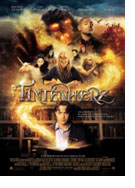 Opening 11 Dec 2008
Directed by: Iain Softley
Writing credits: David Lindsay-Abaire, Cornelia Funke
Principal actors: Brendan Fraser, Sienna Guillory, Eliza Bennett, Richard Strange, Paul Bettany
Directed by Iain Softley, Inkheart stars Brendan Fraser (The Mummy), Paul Bettany (A Beautiful Mind), Helen Mirren (The Queen), Andy Serkis (The Lord of the Rings) and Eliza Hope Bennett (Nanny McPhee). The screenplay is written by David Lindsay-Abaire and is based on the book by Hamburg author Cornelia Funke, who was also one of the producers.
Mo Folchart (Fraser) has a secret talent: by reading out loud he can bring book characters into our world. Yet it is a talent fraught with dangers, because it means that someone from our world is sent into the world of the book in exchange. This is what happened to Mo's beloved wife Resa, who disappeared when he unwittingly brought Inkheart heavyweights, the malicious Capricorn (Serkis) and his gang of thugs, into this world. In the process, Mo's copy of the book was destroyed, and since the tragic event, he has refused to read out loud, even to his book-loving daughter Meggie (Bennett).
Mo travels from one used book shop to the next looking for a copy of Inkheart, intending to somehow read Resa back into this world. However, when he finally finds a copy, a whole series of the book's characters immediately start to thwart his plans, not least Capricorn, who has decided that he much prefers all the amenities of this world and has no intention of allowing anyone to read him back home.
My memory of Inkheart the book is that the story revolves very much around Meggie as the main protagonist. However, though she has an important role in the movie, it seems that the focus is more on Mo's quest to restore his beloved wife to this world. This actually works well, but makes it a movie for older kids rather than those that enjoyed The Chronicles of Narnia, for example. It is set at Age 12+.
I thought it was a successful adaptation, with some good performances (I particularly enjoyed Helen Mirren as Meggie's eccentric great aunt and Andy Serkis as Capricorn) and solid pacing. (Osanna Vaughn)