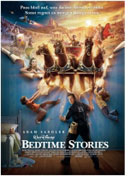 Opening 25 Dec 2008
Directed by: Adam Shankman
Writing credits: Matt Lopez, Tim Herlihy
Principal actors: Adam Sandler, Keri Russell, Guy Pearce, Russell Brand, Richard Griffiths
Adam Shankman (Hairspray, The Wedding Planner) directs Adam Sandler (Anger Management, Spanglish) in a delightful family comedy, perfect for the holiday season. Matt Lopez and Tim Herlihy wrote the screenplay.
Skeeter Bronson (Sandler) is a hotel handyman, caretaker, who finds himself reluctantly having to babysit his niece and nephew while his sister Wendy (Courtney Cox) has to go out of town for a job interview and her best friend Jill (Keri Russell) goes to evening classes. Inexperienced as he is, Skeeter's first attempts at bedtime stories are rather uninspired, so the kids are quick to add their own embellishments and unexpected twists. Then, the truly unexpected happens: Skeeter discovers that the kids' creativity is transferred to his life – their wacky ideas become reality, including gumballs raining from the sky!
Skeeter realises the potential and begins manipulating the stories and the children's contributions so that he can get his own sports car, find the love of his life, and, ultimately, achieve his life-long dream of becoming the hotel's general manager. Needless to say, Kendall (Guy Pearce), the hotel's rather slimy current manager, disdainfully dismisses the idea of Skeeter presenting any kind of competition, and when the reality created by the bedtime stories takes an unfortunate downturn, Skeeter looks to lose all his dreams...
Bedtime Stories is an entertaining caper which provides fun family entertainment. Sandler is supported by Jonathan Morgan Heit and Laura Ann Kesling, who do an excellent job playing the two children, Patrick and Bobbi. (Osanna Vaughn)