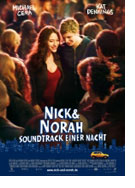 Nick und Norah - Soundtrack einer Nacht (Nick and Norah's Infinite Playlist)
U.S.A. 2008
Opening 19 Feb 2009
Directed by: Peter Sollett
Writing credits: Lorene Scafaria, Rachel Cohn, David Levithan
Principal actors: Michael Cera, Kat Dennings, Aaron Yoo, Rafi Gavron, Ari Graynor
For New Jersey suburban teens, high-school graduation is on the horizon. Though jilted, Nick O'Leary (Michael Cera) still makes mix CDs for Tris (Alexis Dziena), who consistently trashes them. Her classmate rival Norah Silverberg (Kat Dennings) retrieves, listens to and recognizes a kindred soul in whoever made these music compilation CDs.
The Jerk Offs, a queer-core band Nick plays bass with, has a gig on the Lower East Side where Norah coincidently is in the audience with besotted girlfriend Caroline (Ari Graynor). When callous Tris shows up, rather than appear "dateless" Norah asks Nick to be her boyfriend for five minutes, which refuels Tris' interest in Nick. Fellow band members Thom (Aaron Yoo) and Dev (Rafi Gavron) want Nick to get past Tris, and therefore offer to take drunk Caroline home for Norah so that she can help Nick track the legendary band Where's Fluffy, rumored to be playing somewhere in Manhattan that night.
The witty dialogue and lively pacing (with great introduction titles) pull us in. Almost immediately though, Lorene Scafaria's screenplay sags under posturing, nasty, conniving characters uttering trite insensitive dialogue. Peter Sollett's direction falters, becoming disjointed and unfocused, never more obvious than when Nick and Norah succumb to passion at a famous recording studio, yet the camera decides to embrace the equipment. Gags lack heart and we see them coming: looking up into Caroline's face, we get the full thrust of "humor" as her cell phone, then chewing gum fall into a public toilet she has just thrown-up into; looking down, we fish them out. That is funny?
The film credits a predominantly young production team, yet the end result of their perceived expectancy for what teen audiences relate to and want to see is a sad commentary in itself. The soundtrack is the only noteworthy ingredient, with original music from Mark Mothersbaugh and Linda Cohen as music supervisor; thankfully it is available sans the accompanying, painful-to-watch, paltry celluloid. (Marinell Haegelin)