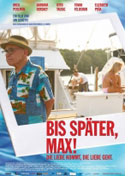 Bis später, Max! - Die Liebe kommt, die Liebe geht. (Love Comes Lately)
Germany/Austria/U.S.A. 2007
Opening 9 Apr 2009
Directed by: Jan Schütte
Writing credits: Jan Schütte, Isaac Bashevis Singer
Principal actors: Otto Tausig, Caroline Aaron, Olivia Thirlby
An incorrigible lover, almost 80-year-old author and lecturer Max Kohn (Otto Tausig) easily shifts from his reality to that of his fictitious characters. Reisel (Rhea Perlman), his long term and neglected lover, fusses over him and attends to her mother, which is convenient for Max. He gambles she will always be there, regardless of his liaisons. When they attempt a rendezvous at his apartment, dependable Reisel instead organizes mixed-up Max for his imminent lecture tour.
Max's encounters regularly develop into predicaments, with funny and forced-funny results. Young literary admirer Sylvia (Olivia Thirlby) pops up later in a dream; Rachel (Caroline Aaron) and a motel maid (Elizabeth Peña) appear in a bizarre Miami reverie.
First stop on the tour turns up ex-student Rosalie (Barbara Hershey), whom Max pants after like a pup in pursuit of a meaty bone. Later, as they talk about why his stories have unhappy endings, she says, "…we're from the same tribe, the one destroying itself." The story shifts gears: Max bungles his itinerary with unpleasant results, reflected in a dream he has – Ethel's (Tovah Feldshuh) choice is as drastically distasteful. Bewildered, Max phones Reisel for help.
Merging three short stories by Nobel prize winner Isaac Bashevis Singer, director-writer Jan Schütte does not differentiate between Max's reality and his stories or dreams, which is distracting and confusing for us. The Max character fails to elicit sympathy, rather disdain; the pace plods along, with much of the dialogue stilted; the acting, from a seasoned cast, saves this film. Even the end is unsatisfying; Schütte does not tie-up Singer's stories to a coherent conclusion. The upshot is, we wonder why Max did not stop gambling with love long, long ago. (Marinell Haegelin)