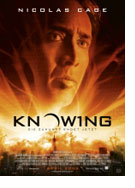 Opening 9 Apr 2009
Directed by: Alex Proyas
Writing credits: Ryne Douglas Pearson, Juliet Snowden, Stiles White
Principal actors: Nicholas Cage, Chandler Canterbury, Rose Byrne, D.G. Maloney, Lara Robinson
Alex Proyas directs Nicolas Cage, Chandler Canterbury, Rose Byrne and Lara Robinson in a doomsday, sci-fi drama with a difference. Proyas also leads the team of script-writers.
In 1959, the pupils of a newly built school place their visions of what the future may look like in a time capsule buried in front of the main building. Instructions are for it to be opened 50 years later. Caleb Koestler (Canterbury), son of widowed astrophysicist John Coestler (Cage), is one of the kids to open a letter from the capsule; but, while his friends all discover pictures in theirs, Caleb finds a page covered in tightly-packed numbers. John is intrigued, and soon stumbles across a pattern in the digits – a pattern that documents the dates, numbers of deaths and map coordinates of all the major disasters that have visited the planet over the past 50 years – with the exception of three due to happen within the next days!
As soon as John realises the truth, he tries to intervene to impede the tragedies – to no avail. When he realises, however, that the final prophetic date announces the death of Everyone Else, he is desperate to save his son at all costs. As it turns out, others have plans for his son too.
Knowing does present a few ...but how come...? questions; yet, if you can put them aside and are a fan of doomsday movies, you'll probably enjoy this one. The overall production combines excellent special effects with a believable personal story – and then there's the ending, which is definitely different. (Osanna Vaughn)