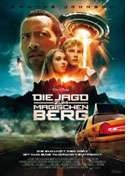 Die Jagd zum magischen Berg (Race to Witch Mountain)
U.S.A. 2009
Opening 9 Apr 2009
Directed by: Andy Fickman
Writing credits: Matt Lopez, Mark Bomback, Alexander Key
Principal actors: Dwayne Johnson, AnnaSophia Robb, Alexander Ludwig, Carla Gugino, Ciaran Hinds
Andy Fickman (The Game Plan) directs Dwayne Johnson (The Scorpion King, The Rundown), Annasophia Robb (Charlie and the Chocolate Factory) and Alexander Ludwig (The Seeker: The Dark Is Rising), in a family adventure movie, a remake of Disney's 1975 Escape to Witch Mountain based on Matt Lopez's book of the same name. Lopez also wrote the screenplay together with Mark Bomback.
Jack Bruno (Johnson) is a reformed convict working as a taxi driver in Las Vegas. One day, two teenagers – Seth and Sara (Ludwig and Robb) – appear in the back seat of his cab, urgently insisting that he drive them to a remote location, way out in the Nevada desert. As the kids have plenty of cash, Bruno agrees to take them, but it's soon clear that someone is hot on their trail. At first, Bruno assumes it's some of his former criminal acquaintances, but when the kids begin to reveal amazing other-worldly powers, Bruno has to shift mental gears.
Finally accepting that he's actually chauffeuring two aliens pursued by some shadowy national security agency headed by Henry Burke (Ciarán Hinds), Bruno reluctantly gives himself over to the youngsters' cause: after all, it's a race to save the world from ultimate annihilation... a race to the mysterious Witch Mountain.
Race to Witch Mountain is a fairly entertaining, well-cast action movie for young teenagers. Unfortunately, the mystery and ingeniousness of the 1975 Disney movie – where the two youngsters don't actually discover their alien origins till the end – is lacking: we know exactly what the kids are and what they're up to, who's trying to stop them, and who wants to conduct all kinds of experiments on them in the name of national security. (Osanna Vaughn)