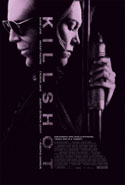 Opening 16 Jul 2009
Directed by: John Madden
Writing credits: Hossein Amini, Elmore Leonard
Principal actors: Mickey Rourke, Diane Lane, Thomas Jane, Joseph Gordon-Levitt, Rosario Dawson
"You have to know what you're doing when you go in… don't hang around, don't get interested, then you don't make mistakes. Those are the rules." Mafia hit man Armand "Blackbird" Degas' (Mickey Rourke) cryptic words accompany a grisly scene of a job going wrong and haunt him over the years.
Blackbird visits his grandmother on the reservation, where he sees and receives a lukewarm reception from old acquaintance Lionel (Aldred Montoya). Bird's Indian/French Canadian lineage inherently defines his complex personality: an assassin who, incongruously, has a self-styled code of honor. He makes a consequentially lethal mistake when, on the run from the mob, Bird befriends psychotic felon Richie Nix (Joseph Gordon-Levitt). Nix, who reminds him of his younger brother, has an extortion scheme in place, so Bird goes along to help rough-up a wealthy realtor. Carmen Colson (Diane Lane) and laid-off ironworker husband Wayne's (Thomas Jane) precarious marriage is further compromised when they unwittingly witness the crime. Little do they realize Bird's motto is, "No one lives, who sees my face."
The FBI step in; Carmen and Wayne move from their home in Michigan to witness-protection in Cape Girardeau, Missouri. New names, new lives. Jolted out of their rut, they grasp this could be a chance to resurrect their marriage. Meanwhile the dangerous duo work out who the Colsons are, where Carmen's mother Lenore (Lois Smith) lives and, with methodical Bird in charge, set about to snare their prey.
Based on Elmore Leonard's novel, director John Madden's cast deliver laudable performances: Lane's Carmen is collected yet gutsy, Gordon-Levitt's Nix grates with frenetic craziness yet delivers a few comical turns and Jane's Wayne is stable albeit stubborn. The production values are top-notch, as is the music. Is it Hossein Amini's screenplay or the three years of post-production tampering that makes this just an okay film? Rourke's performance is strong, deliberate and restrained; in the last tense minutes, sans Nix's constant raving, Bird reflects, "…don't hang around, don't get interested then you don't make mistakes." Although not The Wrestler, he certainly makes this a film worth watching. (Marinell Haegelin)