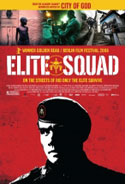 Opening 6 Aug 2009
Directed by: José Padilha
Writing credits: André Batista, John Kaylin, Bráulio Mantovani, José Padilha, Rodrigo Pimentel
Principal actors: Wagner Moura, Caio Junqueira, André Ramiro, Maria Ribeiro, Fernanda Machado
In Rio de Janeiro of 1997, there are 30,000 military police (the majority corrupt) and 100 members of the BOPE (Special Police Operations Battalion), an elite, hand-picked troupe. Pope John Paul II will visit Rio and stay at the archbishop's residence that is near the favela Babilônia, a poverty-ridden depraved area full of weapon-wielding thugs where the drug lord rules. Operation Holiness is devised when the governor calls on BOPE; they have two months to clean up the favela.
BOPE's Capitão Nascimento (Wagner Moura) is weighed down with emotional and mental stress stemming from years of fighting ruthless criminality and because he is soon to become a father. Before he can quit the operational division to be a trainer, he must find his replacement. Meanwhile, macho Neto (Caio Junqueira) and reflective Matias (André Ramiro) idealistically join the police, only to find themselves submerged in menial duties and a quagmire of corruption. Matias reckons a law degree suits his personality better. At the university he links up with a group of rich students, who utilize the favela to practice at social work and acquire drugs to sell on campus. By and by, the two rookies literally tumble in to the BOPE, whereby Nascimento thinks he has finally found his replacement.
Nascimento's gravelly voiceover helps us navigate the extremely thick plot, replete with one-liners, "Me? I'm no regular cop!" as he blasts a favela teen drug dealer. In fact, he is indifferent to whether he pistol-whips or shoves a broom handle where it will hurt, as long as he gets results: "BOPE defends Brazil's pride." Teeming with alpha males, aggression and brute force, this grim depiction of Brazil is defined by characters that repulse, regardless of their uniform or address.
José Padilha directs this semi-fictional film, based on ex-BOPE captain André Batista's book (written with Rodrigo Pimentel and sociologist Luiz Eduardo Soares), with a script from Academy Award-nominated Bráulio Mantovani. Lula Carvalho's dark subdued tones and hand-held camera embeds us in the action, with complementing original music from Pedro Bromfman. It is an ode to relentless violence and perhaps sets the trend for film festival juries to select similar subjects as prize winners (Berlinale 2008, Cannes 2009). (Marinell Haegelin)