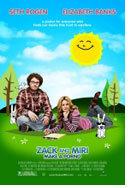 Zack & Miri Make a Porno
U.S.A. 2008
Opening 13 Aug 2009
Directed by: Kevin Smith
Writing credits: Kevin Smith
Principal actors: Seth Rogen, Elizabeth Banks, Craig Robinson, Jason Mewes, Jeff Anderson
It is the day before Thanksgiving in icy Pittsburgh; tonight is their high school reunion and flatmates Zack Brown (Seth Rogen) and Miriam Linky (Elizabeth Banks) are flat-out broke. The water shuts off while Miri takes a shower, then the electricity goes out; nevertheless, with Miri twisting Zack's arm, the two attend the reunion. Killing time, Zack strikes up a conversation with Brandon St. Randy (Justin Long). He is dumbfounded to learn that Brandon is former fellow student Bobby Long's (Brandon Routh) date, and they live the high life in L.A. making porn movies.
Desperate, Zack comes up with an ambitious plan which he has to sell to lifelong platonic buddy Miri and, for capital, to his coffee shop co-worker Delaney (Craig Robinson). He promises Delaney that as the producer he can do all the titty auditions. Eventually Bubbles (Traci Lords), Lester (Jason Mewes), Stacey (Katie Morgan) and Barry (Ricky Mabe) are cast, Deacon (Jeff Anderson) is hired to do the camerawork and Star Whores is born.
Working as a team, they transform a rented storage area into a sound stage and make admirable costumes. When catastrophe strikes, Zack comes up with a plan to salvage their production. Zack's script, for the sake of interest, has each actor copulate with at least two others, except for Miri, and when Miri and Zack shoot their scene, "platonic" flies out the window.
Kevin Smith wrote and directed this comedy, that together with David Klein's cinematography tastefully deliver the "behind the scenes" escapades of making a porno. All the cast deliver good performances, especially Rogen, and we enjoy some really funny moments. During the End Credits, inserted footage brings us up-to-date with the characters. Overall though, the film is too long; we are aware that Miri and Zack's relationship is evolving without having to experience every little nuance. And some of the comic scenes stretch the meaning of funny. Smith also edited the film; perhaps he should have had someone edit him? (Marinell Haegelin)