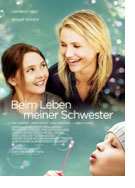 Beim Leben meiner Schwester (My Sister's Keeper)
U.S.A. 2009
Opening 27 Aug 2009
Directed by: Nick Cassavetes
Writing credits: Jeremy Leven, Nick Cassavetes, Jodi Picoult
Principal actors: Abigail Breslin, Cameron Diaz, Jason Patric, Sofia Vassilieva, Alec Baldwin
Seasoned filmmaker Nick Cassavetes teams up with screenwriter Jeremy Leven to create a feature film narrative from Jodi Picoult's novel My Sister's Keeper. Picoult's familiarity with the legal system helps to intricately unravel controversial storylines with sharp plots noted in her acclaimed novels. Cassavetes and Leven succeed in stopping short of Picoult's written description of an inconceivable twist of gallantry in her account of My Sister's Keeper. But they eloquently develop the emotional ordeal of Picoult's exposé of how one family chooses to love a child/sibling dying of leukemia.
The charming middle-age couple Sara (Cameron Diaz) and Brian (Jason Patric) Fitzgerald, along with their three children, 14-year-old Kate (Sofia Vassilieva), 13-year-old Jesse (Evan Ellingson) and 11-year-old Anna (Abigail Breslin) appear to be the perfect loving family who choose to engage in each others lives. They enjoy, care for and protect each other. The protection part is put to the test when the leukemia in Kate's body is no longer in remission but accelerating rapidly. Sara and Brian have done everything in their power to prolong her life since she was diagnosed with the illness as a small child. Neither Sara nor Brian nor Jesse would ever be a match for blood or organ donors to keep Kate alive; therefore, the Fitzgeralds create the perfect donor child, Anna, in order to assist Kate's medical needs on demand. It works wonderfully until, at the age of eleven, Anna sues her parents for the rights to her own body. In an effort to protect her sister, Anna draws on the help of brother Jesse and the town's sleazy lawyer (Alec Baldwin), because the next operation could potentially be detrimental to Anna's future as well as Kate's. Anna's wit and charisma forces the family to reconcile with the realities of death and dying on the home front by using the confines of the courtroom as a catalyst to speak the truth in love and observe the law to produce justice. (Karen Pecota)


Second Opinion

Scripted and directed by Nick Cassavetes (Alpha Dog, The Notebook), My Sister's Keeper stars Cameron Diaz, Abigail Breslin (Little Miss Sunshine), Sofia Vassilieva (TV series Medium), Alec Baldwin and Joan Cusack. It is based on the bestseller by Jodi Picoult.
My Sister's Keeper is a family drama revolving around two sisters: the elder, Kate (Vassilieva), suffers from a rare type of Leukemia; the younger, Anna (Breslin), was a test-tube baby subjected to genetic corrections to enable her to be a donor for her sister. Their mother, Sara (Diaz), will stop at nothing to keep Kate alive, and is counting on the 11-year-old Anna to give her sister a kidney transplant. Anna refuses and gets a lawyer; Campbell Alexander (Baldwin), to sue her parents for her right to medical emancipation, meaning she has the right to determine herself what happens to her body. Thus the drama unfolds...
There are many touching moments in this movie, a few tear-jerker scenes, and the acting is convincing all around. However, it failed in three fundamental aspects: first, the premise. It seems unlikely that it would be legal in the U.S. to manipulate a human egg with the aim of creating the perfect donor; the idea is certainly morally questionable. Consequently, it lost an element of reality. My second problem was with the extremely confusing structure. The leaps between moments in time left me frequently unsure as to what was happening when. Finally, the first twenty minutes or so have so many voice-overs it got really irritating.
I hear the book is excellent, but I believe the director's choices for how to tell the story probably didn't do it justice. (Osanna Vaughn)