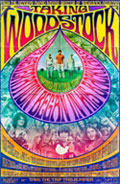 Opening 3 Sep 2009
Directed by: Ang Lee
Writing credits: James Schamus, Elliot Tiber, Tom Monte
Principal actors: Henry Goodman, Imelda Staunton, Demetri Martin, Emile Hirsch, Paul Dano
Director Ang Lee defies the odds by crafting a film whereby we vicariously experience Woodstock. This comedy depicts a music festival that was much more than the thirty-two renowned musicians who performed and became a defining moment in the history of popular music.
Based on Elliot Tiber's autobiography, with James Schamus' screenplay, when we meet the Teichbergs they are at a precarious crossroads. Elliot (Demetri Martin), willing to forego his dream to live and work in New York City to help his zany parents Sonia (Imelda Staunton) and Jake (Henry Goodman) save their motel from foreclosure in tiny White Lake, knows it will take nothing short of a miracle. A series of innocuous events places Elliot in an advantageous position. By chance he reads in the local paper that neighboring Wallkill has officially banned an open-air concert, scheduled in a month's time because of fears that instead of the said 5,000, more than 50,000 would attend. Seizing the chance, he phones the organizers and a battalion arrive by helicopter. Spokesman Michael Lang (Jonathan Groff) and Tisha (Mamie Gummer) help Elliot navigate the arrangements, including the venue's change to Max Yasgur's (Eugene Levy) 600-acre farm.
We watch the ensuing proceedings with editor Tim Squyres's effective use of split screen (nicely paralleled in the opening credits) and Eric Gautier's ubiquitous camera's help, from a bird's-eye view. Mayhem, nudity, mud and pot… settle in for a memorable trip. Wonderful casting from Avy Kaufman unleashes a plethora of nicely bizarre characters: Billy (Emile Hirsch), Vilma (Liev Schreiber), Devon (Dan Fogler), VW Guy & Girl (Paul Dano and Kelli Garner), Dan (Jeffrey Dean Morgan), Stan (Kevin Sussman) and Penny (Katherine Waterston) are but a few.
Lee's film captures the essence of a phenomenal event whereby almost a half-million people came together for a weekend and rather than crime, riots and disaster, the attendees were cooperative, loving and unity prevailed. As Elliot climbs on Trooper AJ Hamilton's (James Hanlon) motorcycle, who has a flower stuck on his helmet, for a ride to the stage area, Hamilton wonderingly admits they are beautiful people. To quote Vilma, "Go, see what the center of the Universe looks like" and this film, which is being released in the U.S. in time for Woodstock's 40th anniversary, is as close as we are going to get. (Marinell Haegelin)