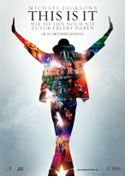 Michael Jacksons This Is It
U.S.A. 2009
Opening 29 Oct 2009
Directed by: Kenny Ortega
Writing credits:

The film opens with a short text introduction stating the purpose of the footage and its intent "For the fans..." This is already very sentimental. After short dialogues from various dancers, some even crying of happiness to be part of a Michael Jackson concert, Kenny Ortega, director of the tour is heard talking. The film shows the last rehearsals for the concert. It goes on with a body suit made from screens which display fast clips and images with bright intensity from which Jackson emerges on stage. Immediately after this, Jackson begins his first solo "Wanna Be Startin' Somethin'," which pauses half-way through to show a small snippet of Jackson singing his song "Speechless" a cappella. Jackson is then joined by dancers and completes the first number. Fantastic!
The film shows how stage mechanisms were tested and green screen adaption of soldiers, dancers for "Bad," which are also used for "They Don't Really Care About Us." The film shows Michael directing Ortega and his band for his solo rehearsal performance of "Human Nature" which he performs a cappella, then acoustically and finally with full band. Here you can see and hear that Michael hasn't lost any of his talent.
Rehearsals for "Smooth Criminal," "The Way You Make Me Feel," "I Want You Back," "The Love You Save," "I'll Be There," and "Shake Your Body" follow. Jackson sings with one of his back up singers on his duet song "I Just Can't Stop Loving You" in which he sings at full strength, directing his partner as he goes. So wonderful it made me sob!
The filming for the "Thriller" vignette is then shown with Jackson and Ortega watching with 3D glasses. It is an all new "Thriller" with awesome costumes!
When Jackson is rehearsing "Beat It" he creates the ending he wants for the song, a long drum build up in which he tears off his jacket and burns it. So you can see that he really takes part in developing the show and therefore the show becomes really his. But he also leaves room for other great artists and their talent, as seen in the rehearsal of "Black or White," in which he allows guitarist Orianthi Panagaris to take center stage to finish with a high guitar rift.
The video-sequence for "Earth Song" is shown next, featuring a small girl who wanders through an abundant forest, falls asleep, and wakes up to find the forest destroyed by man. This is very breathtaking. When he performs a quick version of his song "Billie Jean," you get to see an extra dance sequence. The film ends with Jackson with his arms extended on stage with the message: "Michael Jackson King of Pop Love Lives Forever." This is really something for Michael Jackson fans. The songs are well performed and the film shows what a great artist he was. My last thought was: the newer generation(s) are poorer for not knowing him. (Tina Grieben)