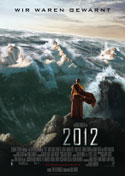 Opening 12 Nov 2009
Directed by: Roland Emmerich
Writing credits: Roland Emmerich, Harald Kloser
Principal actors: John Cusack, Amanda Peet, Chiwetel Ejiofor, Thandie Newton, Oliver Platt
Roland Emmerich (Independence Day, The Day After Tomorrow), directs John Cusack (Identity), Amanda Peet (Something's Gotta Give), Chiwetel Ejiofor (Love Actually), Danny Glover (Be Kind, Rewind), and Woody Harrelson (No Country For Old Men), in a spectacular doomsday movie that he also wrote and produced.
American scientist Adrian Helmsley (Ejiofor) is faced with having to advise the U.S. government of the devastating news: solar flares of gigantic proportions are affecting the earth like a microwave oven, heating up the planet's upper mantel to boiling lava point. The clock is ticking and there is no way to stop the imminent destruction of most of the planet as we know it; so governments around the world get together to hatch a plan – a plan that will leave most of humanity stranded to face its doom. Jackson Curtis (Cusack), a divorced, barely-published author, takes his two kids on a hike to Yellowstone National Park. While trying to figure out why areas are fenced off by the military and former lakes have disappeared, he comes into contact with the eccentric scientist Charlie Frost (Harrelson), who has a radio show dedicated to announcing the imminent end of the world. Initially taking him for a nut-case, Curtis quickly begins to change his mind when Frost's prophesies start coming true. As the first mighty earthquakes begin to shake Los Angeles, Jackson's only thought is how to get his family to safety.
A spectacular race against time begins...
One may dispute the science, question the logic and wonder why Amanda Peet's make-up is always perfect, but it would be hard to deny that 2012 has some of the most amazing special effects to date. The movie will take viewers on a constant roller-coaster ride that'll keep them riveted to their seats. If you're into doomsday movies, this is hard to beat. (Osanna Vaughn)