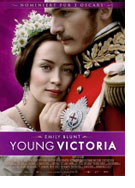 Opening 22 Apr 2010
Directed by: Jean-Marc Vallée
Writing credits: Julian Fellowes
Principal actors: Emily Blunt, Rupert Friend, Paul Bettany, Miranda Richardson, Jim Broadbent
Directed by Jean-Marc Vallée (C.R.A.Z.Y.), and starring Emily Blunt (The Jane Austen Club, The Devil Wears Prada) and Rupert Friend (Pride and Prejudice), Young Victoria tells the story of Queen Victoria of Britain's early life, romance and marriage to Prince Albert of Saxe-Coburg and Gotha. The screenplay was written by Julian Fellows (Gosford Park).
Princess Victoria (Blunt) is niece to the ailing King William (James Broadbent) and sole heir to the British throne. Many consider her too young to reign and want her to hand over power to a Regent; others want her crowned, hoping to influence and manipulate her from behind the scenes; King Leopold of Belgium (Thomas Kretschmann) sends his nephew, Prince Albert (Friend), to England, in the hope that an alliance will ensure Britain's support for Belgium. The intrigues are endless.
Princess Victoria, however, is strong-willed and very decided to immediately become queen upon her uncle's death, and so is crowned at the young age of 18. Prince Albert spends time in England and a genuine love begins to blossom between the two; but a proposal of marriage has to come from the Queen, and Victoria first wants to prove her independence and capacity to reign. This turns out to be more complex than maybe she imagined, and her close relationship with the Prime Minister, Lord Melbourne (Paul Bettany), leads to all kinds of speculation and disfavour. Eventually, she follows her heart and asks Albert to be her consort, realising that a loving man at her side will provide the true strength and support she needs.
The film, Young Victoria, is carried by the excellent performances of both Emily Blunt (nominated for a Golden Globe) and Rupert Friend. Their relationship develops subtly but in a very touching and convincing manner, heralding what is known to be one of the strongest royal marriages ever. The costumes and sets are also up to top standard for a historical movie. I did find the editing weak at times, especially towards the end, but it did not diminish my overall enjoyment. (Osanna Vaughn)