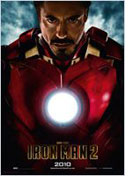 Opening 6 May 2010
Directed by: Jon Favreau
Writing credits: Justin Theroux, Stan Lee, Don Heck, Larry Lieber, Jack Kirby
Principal actors: Robert Downey Jr., Don Cheadle, Scarlett Johansson, Gwyneth Paltrow, Sam Rockwell
Trailing in the success of the initial Iron Man, Marvel Studios was poised auspiciously. Jon Favreau is again at the helm directing, Robert Downey Jr./Tony "Iron Man" Stark is still faithfully attended to by Gwyneth Paltrow/Pepper Potts and Don Cheadle, who now plays his buddy Lt. Col. James "Rhodey" Rhodes, remains more or less at his side to battle the adversaries, the likes of Russian Ivan "Whiplash" Vanko (Mickey Rourke), and competitor (and arch rival, we find out soon enough) ammunitions manufacturer Justin Hammer (Sam Rockwell).
Unbeknownst to Tony, far away in artic Moscow, an old man tells his son "that should be you... all I can give you is information", as he looks at T.V. news hype about Stark a.k.a. Iron Man. He dies. His son Ivan roars in pain. And then plots his revenge. Meanwhile an unarmored Super Hero is called before a Senate Hearing; Tony gives Senator Stern (Garry Shandling) a run-for-his-money before walking out to applause. Seems the powers that be, the military specifically, want a piece of the action. Add to the mix Pepper's abettor Natalie Rushman/Natasha Romanoff (Scarlett Johansson), and the opening of the Stark Expo in Flushing, New York. Cut to the Monaco Grand Prix where Ivan makes his first thrust at Tony as "Whiplash". Deterred and detained in prison, unknown sources help Ivan escape; he arrives in the USA where fast-talking Hammer awaits and an uneasy pact is forged. Tony, genuinely anxious about his Electro transmitter's waning life support, meets a new ally, S.H.I.E.L.D. top-agent Nick Fury (Samuel L. Jackson). Fury holds a key, or three, vital for Tony's, i.e. the world's, well being.
Based on Marvel comic books by Stan Lee, Don Heck, Larry Lieber and Jack Kirby, Iron Man 2 is thwarted by Justin Theroux's screenplay and Dan Lebental and Richard Pearson's editing. The story jumps between Moscow, New York, Monaco, Washington, D.C., and various locations in California, allocating little screen time for the characters to develop. The film's tireless back and forth cuts deter any plot twists. Paltrow and Johansson come across as two stiff Barbie© dolls until late in the film, Downey Jr. valiantly tries to find the right balance between the Tony in control and not, and Rockwell's character is too stupid to be that rich.
Extant are classic comic book elements, loads of action, and when the dialogue works, the innuendos fly fast and furious. Ostensibly, Iron Man 3 is in the forecast; pay attention to the reviews and returns, Marvel Studios, unless you want the Iron Man to end up a damp squid. (Marinell Haegelin)