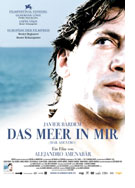 "I consider that living is a right and not an obligation." This is the firm belief of Ramón (Javier Bardem), who for 27 years has lain in bed as a quadriplegic after suffering an accident when he jumped into shallow water and broke his neck. His body is worthless, and he's totally dependant on others for his survival, yet his mind is brilliantly active, witty, sensitive and humorous. The film is based on the true story of Ramón Sampedro, who received attention from the press when he officially petitioned the Spanish legal system to allow him assistance in bringing his life to an end. They opposed his request, and in 1996 he published all he wrote in Letters from Hell. He then came up with a plan to commit suicide without anyone actually being by his side and physically helping him. He consciously ended his life on January 12, 1998. The young Alejandro Amenábar, previously known for The Others starring Nicole Kidman, brilliantly directed, wrote the script, and composed the music. This movie has already won the Grand Special Jury Prize and Young Cinema Award for Best International Film at the 2004 Venice Film Festival.
The setting for this life drama is the coast of Galicia, in an old isolated farmhouse where Ramón lies in bed and stares out his window into the expansive and barren landscape. Here he finds the freedom to leave the confines of his bed and body by flying away in his daydreams, often back to the beach, to the place of the accident. According to his former existence, when he was mobile, he does not live a dignified life. Ramón's only wish now is to die, and the state and church are against him. Surrounded by a loving, supportive and mostly accepting family, his sister-in-law, Manuela (Mabel Rivera), takes tender care of him while his nephew and father build the contraptions he creates to make his life more comfortable. In his legal plight, he is assisted by the lawyer Julia (Belén Rueda), who falls in love with him and is willing to assist him in his euthanasia as she will follow suit since she also has a debilitating disease. She promises that after his book is published, she will return with the first copy and then they can leave this world together. But the first book arrives in the mail and he realizes she has lost the courage. Then there is Rosa (Lola Dueńas), the factory worker who is alone in the world with only her two young children and who also loves him. She, however, desperately wants him to live and tries to make him change his mind. Yet he knows that only the person who truly loves him will help him to fulfill his death wish.
This film will touch your soul and make you laugh and cry in the realization of its beauty and depth of spirit. Who has the right to decide over one's life – the individual, the state, the church? "Who am I to judge those who want to live, but I want to die… we all die." (Coppelia Hays Branscheid)



| | |
| --- | --- |
| | Black Widow (2021) |
| | Bleeding Audio (2020) |
| | |
| | |
| | Die Olchis: Willkommen in Schmuddelfing (The Ogglies, Smelliville) (2021) |
| | |
| | Niemals Selten Manchmal Immer (Never Rarely Sometimes Always) (2020) |
| | Niemals Selten Manchmal Immer (Never Rarely Sometimes Always) (2020) |
| | Peter Hase 2 - Ein Hase macht sich vom Acker (Peter Rabbit 2: The Runaway) (2021) |
| | Quo vadis, Aida? (2020) |
| | The Father (2020) |
| | The Father (2020) |
| | Cortex (2020) |
| | |
| | Mulan (2020) |
| | |
| | |


Would you like to receive a list of all the current month's film releases -- with links to reviews by the KinoCritics -- delivered right into your email box? If so, click
here
to subscribe to the
KinoCritics Newsletter
. We'll email it to your inbox at the beginning of every month.