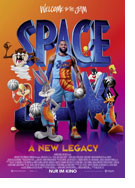 LeBron James (who plays himself) has signed up his son Dom (Cedric Joe) for basketball camp to start next week. Dom has had enough of this continuous pestering on the side of his father to follow his steps into the professional basketball world. Why sports when creating video games is much more fascinating? He wants to go to video game design camp. LeBron takes Dom to Warner Bros, which is offering him a job under Warner Technology 3000. Suddenly, they are transported into digital space, controlled by evil Al G. Rhythm (Don Cheadle). Al G. kidnaps the young boy. In order to save him, LeBron must win a basketball game against a team of computerized creatures called the Goons. About 25 minutes into the film, we find an animated LeBron in the world of Looney Tunes, where Bugs Bunny agrees to help James set up a team, including Lola Bunny, Speedy Gonzales, Elmer Fudd, Porky Pig, Tweety Bird, Granny, Daffy Duck, Road Runner, Marvin the Martian, Foghorn Leghorn, Wili E. Cayote and more. So, it's the Tune Squad (small and animated) against the Goon Squad (huge and digital). How can LeBron James possibly win? In this difficult situation James realizes that a father must accept his offspring as they are, and encourage them in their own goals, without making them copies of himself.
The first Space Jam came out in 1998. Space Jam 2 is based on this first story, which was written by Timothy Harris, Steve Rudnick, Herschl Weingrod, and Leo Benvenuti. Both films are similar with cartoon characters playing basketball, first with Michael Jordan (who is mentioned in this second film), and now with Lebron James. I was amazed that James, a hugely successful basketball player, could also act – perhaps a new career for him in his "older" years. The team members of the Goons are online versions of real players such as Anthony Davis, Diana Taurasi, Klay Thompson, or Damien Liliard, who will be familiar to anyone interested in US basketball championships. There is a wonderful mix of animated/live characters. The credits at the end of the film show at least 150 contributors listed under animation alone, with a complete team of over 700 who brought this film to our screen. I counted 44 songs! It was filmed in Ohio, USA, but what's that in a digital world? And, in spite of all the craziness of this digital world, the moral of the story is just as fundamental for us today as it was a thousand years ago: "Let me be myself." (Becky Tan)





Would you like to receive a list of all the current month's film releases -- with links to reviews by the KinoCritics -- delivered right into your email box? If so, click
here
to subscribe to the
KinoCritics Newsletter
. We'll email it to your inbox at the beginning of every month.