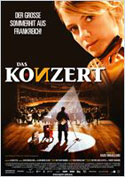 Opening 29 Jul 2010
Directed by: Radu Mihaileanu
Writing credits: Radu Mihaileanu, Matthew Robbins, Alain-Michel Blanc, Héctor Cabello Reyes, Thierry Degrandi
Principal actors: Aleksei Guskov, Mélanie Laurent, Dmitri Nazarov, Valeriy Barinov, François Berléand
Bucharest-born filmmaker Radu Mihaileanu says that he is called a Romanian in France, and in Romania he is considered French, as he speaks both languages with an accent. After living in Paris for 30 years, he feels his bi-lingualism is an advantage. He also lived in Israel. One gets the impression that his own experiences serve him as a source for his films dealing with the many facets of a multi-cultural society.
In The Concert he centres his story on Andrei Filipov (Alexei Guskov), once a celebrated Russian conductor leading the Moscow Bolshoi Orchestra to fame. Under Communist rule he had refused to dismiss his Jewish musicians, which subsequently cost him his position. He now has to work as a cleaner in the theatre. Whilst cleaning the director's office, a fax arrives inviting the Bolshoi Orchestra to Paris. He steals the fax as he sees his chance in a daring plan. It will not be easy, but he gets the support of his wife Irina (Anna Kamenkova Pavlova) and Sacha (Dimitri Nazarov), his musician friend, now an ambulance driver. He intends to revive the "old" orchestra and take it to Paris. A potpourri of the most unlikely but hilariously funny situations is set into motion. All of the original musicians have to be found, instruments and passports to be organised. No problem, the talented and helpful gypsies have many friends and relatives in Moscow and even in Paris. The most difficult task will be to engage the young French violinist Anne-Marie Jacquet (Mélanie Laurent) as soloist for the Tchaikovsky concert to which her agent Guylène (Miou-Miou) is strongly opposed. But Filipov is adamant as he has his own emotional reasons to insist on this choice.
It is wonderful to see how Milhaileanu (director and script-writer) used almost every possible stereotype, i.e. thieving Gypsies, drinking Russians, money-grabbing Jews, with an endearing tongue-in-cheek lightness. You are laughing at the silliness and sobbing with emotion at the sad twists in the story. And at the end you are swept away with the sheer force of the music. This offbeat, fast-paced tragic-comedy is a film about friendship, hope, resourcefulness, politics, responsibility – and above all the universal language of powerful music. Don't miss this turbulent, uplifting experience with some of the best Russian and French actors giving depth to their characters.
Le Concert received two César Du Cinema 2010 – the French equivalent of an Oscar – for Best Music and Best Sound respectively. (Birgit Schrumpf)