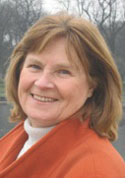 Birgit Schrumpf
In Cape Town, South Africa, Birgit wrote articles and conducted interviews of ceramic artists for the art and crafts magazine "The Cape Potter". She acted as content and layout editor as well as photographer for the magazine. In addition she organized workshops and art exhibitions.
Since moving to Hamburg in the 1990s she has turned to visiting art exhibitions and film festivals. Birgit was thrilled when asked to join the group of film critics and given the opportunity to write reviews about films opening in Hamburg. In 2004 she received her first accreditation for the Filmfest Hamburg, followed by the accreditation for the Berlin International Film Festival in 2008, for which she regularly writes reviews. It still is a great thrill to attend the press conferences, mingle with journalists from different countries and rubbing shoulder with international celebrities like Indian heart throb Shah Rukh Khan, super star Madonna, actor Ben Kingsley, actress Isabella Rossellini, director Fatih Akin, Mike Jagger and his band, or German rock star Müller-Westernhagen, to mention a few.
Birgit holds the post of content editor for the AWCH website and layout editor for the special film issue of Currents, which is published in print as well as electronically.
Films Reviewed by Birgit Schrumpf