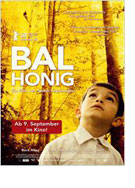 Opening 9 Sep 2010
Directed by: Semih Kaplanoglu
Writing credits: Semih Kaplanoglu, Orçun Köksal
Principal actors: Erdal Besikçioglu, Tülin Özen, Alev Uçarer
It seems unimaginable that a naturalist film would win the Golden Bear at the 2010 Berlinale during a time when most of the population is plugged into technology one way or the other. Looking around me, I see people on the subway and in the streets that are either plugged into their MP3 players or using their iPhones, gathering up the latest information. Moving through the city, it is hard to recognize the sound of nature anymore since the blasts of televisions or radios drown everything else out. Neon and other artificial lighting flood the streets so much that we have lost our natural view of the stars at night. We don't even notice the sound and noise pollution that we create; we are completely at ease with our current environment. In fact, many of us would now find that natural lighting and sound seem foreign to us. This became obvious at the press conference of Bal (Honey), which is part three of an autobiographical reverse trilogy by director Semih Kaplanoglu.
The setting in the pristine forest of the eastern Black Sea is the soul of this film. The director documents a way of life which is clearly disappearing. The soundtrack is the actual sound of nature and gives the film a feeling of time and emotion. Kaplanoglu says that paintings often are inspiration for his films, and in this case, Vermeer contains that sense of quietness and mysteriousness within all the details. The smallness of man in nature is similar to those paintings of the early 1800s such as Caspar David Friedrich.
This story dives into the life of a beekeeper that has to climb up these trees, between 20 and 70 meters in height. This dangerous occupation is vanishing like the bees in the movie. Also, the director said that the art of making these handmade ropes are also disappearing. Told from the perspective of an insecure small boy (Bora Altas), he is searching for evidence of his father, who is overdue from his bee expedition. The mother and son are dependent on the father who is, in turn, dependent on nature for their existence.
It was interesting to see how difficult and uncomfortable it was for the journalists, who live in the city, to deal with the dark and unnatural lighting as well as the quietness that was completely appropriate to the setting of this film. The frugality of language was intended to make the film a Sufi experience. It accents the epic moments through this spiritual language of nature.
Kaplanoglu's first two award-winning films, Egg and Milk, seem to indicate his interest in simplicity and naturalism but clearly strike a tone with us who also need to keep in touch with nature. For me it clearly was the winner at this year's Berlinale due to the different layers it touches upon. (Shelly Schoeneshoefer)