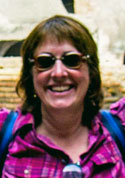 Shelly Schoeneshoefer
An early impression was watching Shelly´s father back in the '60s making daring attempts to capture Colorado mountain life with an 8-mm camera. Not to mention the old Tivoli cinema on the hill that showed old black & white silent films, accompanied by a piano player. The '70's & '80's were exciting times, when directors expanded creative horizons in film making with unforgettable films like Apocalypse Now, The Godfather, The Rocky Horror Picture Show, Star Wars and The Shining, making her a convinced film goer.
While working on her BFA and BA at the University of Colorado, Shelly bought a super 8 camera with editing equipment and produced four short films. Her films at that time were heavily influenced by class instructor/filmmaker Stan Brackage, known for his non-narrative experimental film style. Her friend, film director Jerry Aronson gave her the opportunity to watch the raw, uncut 16-mm footage of interviews with Andy Warhol and Alan Ginsberg while creating a classic film, The Life and Times of Alan Ginsberg.
Now living in Hamburg, Shelly has focused on her art and journalistic skills which include gold smithery and painting, as well as becoming an art, film critic, and interviewer. Her love of Art-house films has never ceased – she continues to attend festivals such as the Berlin International Film Festival, the Hamburg Film Festival, the Hamburg International Short Film Festival, The MICHEL Children's & Youth Film Festival, the Mo & Frise Children's Short Film Festival and the Denver Film Festival, expanding her audio portfolio on actors/directors/ athlete interviews. In 2014, she also interviewed the champions of the International Karate World Championships in Bremen, helping film director Andrew Levine complete his first feature, Practice, Prizes, Perfection. She currently writes for Currents Magazine, KinoCritics, Anglo info, the American Women's Club and the Hamburg Guide (in print).
Films Reviewed by Shelly Schoeneshoefer