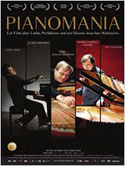 Opening 9 Sep 2010
Directed by: Robert Cibis
Writing credits: Lilian Franck

This documentary takes us to the concert hall of Vienna and Stefan Knüpfer: musical talent, craftsman, and piano tuner for the world's most prominent concert pianists. Charismatic, young Knüpfer (born 1967), is from Hamburg. He originally considered becoming a pianist, but decided that his talent was insufficient and instead learned a trade at Steinway and Sons. The Hamburg Steinway factory was founded in 1880 and moved to its present location at Rondenborg in 1923. Here Knüpfer learned to build pianos and, more importantly, he became a first-class piano tuner and technician; a horse whisperer is nothing compared to a piano whisperer like Knüpfer.
He now lives in Vienna, where he has the run of the concert hall. Each piano there has an identification number from the Steinway factory. World-famous pianists such as Lang Lang and Alfred Brendal arrive days before their concerts in order to rehearse and to discuss with Knüpfer the exact tone, the soul, they expect to issue from the instrument. Pierre-Laurent Aimard arrived a year early to discuss an upcoming Bach recording session.
Amazingly, Knüpfer can "hear" exactly what the pianist "imagines," whether it is a long tone which peters out in the upper corner of the building or a clavichord-like tone which ends in a sharp staccato. He knows what they are talking about when they say the sound is too short or long; full of color or impoverished, superficial or brilliant, breathing or not. I could tell no difference.
He has people bring in the "Rolls Royce of piano stools" upon request; they transport whole new pianos onto the stage with the ease with which most of us would need to get a baby buggy into the bus. Perhaps if you have no interest in music, you might get tired of a constant repetition of C-major chords. On the other hand, you must not miss the hilariously funny musicians Igudesman & Joo. There are many familiar scenes of Vienna in this excellent film by directors Lilian Franck and Robert Cibis. (Becky Tan)