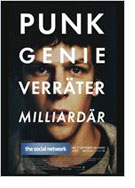 Opening 7 Oct 2010
Directed by: David Fincher
Writing credits: Aaron Sorkin, Ben Mezrich
Principal actors: Jesse Eisenberg, Rooney Mara, Bryan Barter, Dustin Fitzsimons, Joseph Mazzello
In 2003 Mark Zuckerberg (Jesse Eisenberg), a freshman at Harvard College, spends much of his time programming on his computer. After an unfortunate attempt to impress Erica Albright, who tells him that "dating you is like dating a StairMaster," he combines data from several college dormitories into one website called Facemash in order to discuss the qualities of girls on campus. With 22,000 hits in two hours, he brings down Harvard's Internet system and thus becomes well known for his hacker as well as computer skills. Three classmates, Cameron Winkelvoss, Tyler Winkelvoss (Armie Hammer as both twins), and Divya Narendra approach him with the idea of a Harvard Connection website. Zuckerberg initially agrees to provide the programming for the project but then retreats from further communication. Instead, he and his roommates, including Dustin Moskovitz, program their own social network. Friend Eduardo Saverin (Andrew Garfield) provides a thousand dollars seed money and the project takes off, expanding exponentially across Harvard and then to other major U.S. universities.
It is while they are competing in a university rowing competition at Henley-on-Thames in England that the Winkelvoss twins learn that Facebook has reached Oxford and realize that they are out of the picture, if, indeed, they were ever in it. In 2004 Facebook is official; Zuckerberg moves to Palo Alto, CA, where he and a team work to expand the website. Saverin once again provides the money, this time $18,000, but soon his input is peanuts compared to half a million provided by entrepreneur, venture capitalist and co-founder of Pay-Pal Peter Thiel. Also in California is Sean Parker (Justin Timberlake), a co-founder of Napster, who joins the team as advisor. Today Facebook is extraordinarily successful with 500 million users – supposedly every 14th person in the world.
The film goes expertly back and forth from the step-by-step making of Facebook to a present-day deposition for a court case: Winkelvoss / Narendra / Saverin versus Zuckerberg. The three claim to have been influential in the founding of this successful business and wish to have recognition and a cut in the profits. Whether director David Fincher has made a documentary or a feature film is unimportant. He based it on the book The Accidental Billionaires: The Founding of Facebook, A Tale of Sex, Money, Genius and Betrayal by Ben Mezrich, which was on documentary best-seller lists for weeks. Aaron Sorkin wrote the screenplay. The film stands alone as a fascinating story and many facts can be confirmed in serious websites such as Wikipedia. Whether Zuckberg really was interested in joining exclusive Harvard student groups know as "final clubs" or whether Sean Parker told him to "get rid of the 'the' in The Facebook" is secondary.
I think that my two favourite scenes represent the heart of the film. The Winkelvoss twins visit the president of Harvard more or less to whine about intellectual property theft, which is supposedly forbidden according to the student handbook. I cheered at the president's reply. Then Eduardo's girlfriend breaks up with him, after reading his "status" on Facebook – kind of a clue to the impact Facebook could have on future users. I would love to go into detail on this and more, but don't want to spoil it for you. Naturally, those were the innocent days. Perhaps we can look forward to a film about the harm that can happen, e.g. loss of jobs, or more seriously, suicide, e.g. a New Jersey student, when personal secrets are revealed to the world via Internet. In the meantime see this excellent film and enjoy every minute: editing, acting, dialog, everything is simply wonderful. (Becky Tan)