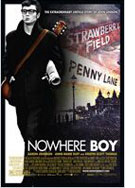 Opening 9 Dec 2010
Directed by: Sam Taylor-Wood
Writing credits: Julia Baird, Matt Greenhalgh
Principal actors: Aaron Johnson, Kristin Scott Thomas, Anne-Marie Duff
A storyline not fully covered from a Lennon/Beatles project is the premise of filmmaker Sam Taylor-Wood's directorial feature début in Nowhere Boy. Wood, along with Ecosse films, muse over a part of John Lennon's growing-up years in Woolton, Liverpool, during the 1950s. Wood allows the film to echo a distant and troubled past of Lennon's life using his own words and quotes about his childhood that led toward his famed Beatle journey. John Lennon (Aaron Johnson), at the age of fifteen, is a rebellious lad reacting to a strict upbringing by his Aunt Mimi (Kristin Scott Thomas), often causing unbearable tension. The relationship between Aunt Mimi's husband, Uncle George (David Threlfall), and John was different. George's kind demeanor was the balance welcomed from Aunt Mimi's harsh traditional ways, even though she loved John as much or more than her husband. One day while John and George were playing silly games, George falls dead from a massive heart attack. John's immediate loneliness coupled with the thought of living without George under Aunt Mimi's roof becomes a nightmare until his cousin introduces John to his birth mother, Julia (Anne-Marie Duff), who lives less than a mile away.
Julia agrees to see John under the condition that he keeps their meeting a secret from his aunt. He agrees but doesn't understand the full implication for the secrecy and, like a typical fifteen-year-old, he doesn't care to be bothered with the information. John is thrilled to get to know Julia because she is every son's dream of a mother: loving, beautiful, talented and fun. She introduces John to her musical interests of rock 'n' roll and teaches him to strum on a guitar. John cons Aunt Mimi to buy him a guitar and tries to start a band but needs better talent to accompany his vocals and lyrical tunes. A kind-hearted kid, Paul McCartney (Thomas Brodie Sangster), auditions for a spot and John takes him on, proving to be one of the best decisions he ever makes. The two boys begin their career practicing at Mimi's house, often under duress, but their passion for making music helps them to cope under her parental control. Just about the time John is feeling good about life, tragedy strikes. Heartbroken and feeling like a lost boy, Lennon …"gets by with a little help from his friends"…and within a few months, he heads off to Hamburg, Germany, with three other band members from Liverpool chartering the ride of his life. Played at the 2010 Sundance and Hamburg film festivals. (Karen Pecota)


Second Opinion

Samantha Taylor-Wood and scriptwriter Matt Greenhalgh present a moving and dramatic story of a boy growing up between two women squabbling for his attention, namely tight-lipped Aunt Mimi (excellently played by Kristin Scott Thomas) who looks after him and his flirtatious young mother Julia (Anne-Marie Duff) who abandoned him when he was only five years old. This is the background of rebellious but sensitive John Lennon in his teens (excellently portrayed by Aaron Johnson).
The carefully arranged set in the style of the 1950s transports the atmosphere of post WWII England perfectly. Rebellion against the establishment and restlessness of the new generation is in the air. Elvis Presley is the hero of the day and young John wants to become like him. He finds an outlet for his anger and frustration by vigorously strumming his guitar. The temporary reunion with his mother – played by a vibrant Anne-Marie Duff – is more confusing than helpful to the teenager. The relationship seems almost incestuous when she dances and parties with her son. But she also introduces him to music and teaches him to play the banjo.
When John forms a school band called "The Quarrymen", a shy youngster called Paul McCartney (Thomas Brodie Sangster) is keen to join. Despite his age he is already some expert guitar player. It is interesting to see the relationship developing between quiet baby-faced Paul and the seemingly tough John.
The movie is based on a memoir by Lennon's half-sister Julia Baird. For her impressive directorial debut Samantha Taylor-Wood received the Art Cinema Award. (Birgit Schrumpf)