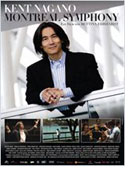 Opening 13 Jan 2011
Directed by: Bettina Ehrhardt
Writing credits:

Kent Nagano, born 1951 in Berkeley, California, is a Japanese-American musician of fame. Director Bettina Ehrhardt portrays just a small slice of his oeuvre, in this case as the conductor of the Canadian Montreal Symphony orchestra. She accompanies Nagano for a year during rehearsals, tours, and performances. One trip takes them to the north of Canada to Nunavat territory, the Hudson Bay, and Inuit towns where Eskimo children marvel at the various instruments and adults share their folk songs. Another tour goes to Europe: Spain, Austria, Germany (including Hamburg), Croatia and France.
The rehearsal scenes reflect Nagano's dedication and intelligence, and one must have respect for the orchestra members who react intelligently to such directions as "Make it more foggy; I don't want to hear individual notes." Several orchestra members (first violinist, concertmaster, bassoonist, clarinettist, and drummer) come forth to explain their experiences with the orchestra and to praise Nagano. There are appearances by composer Alexina Louie, music by Olivier Messiaen, and performances by Rene Homier-Roy (a radio announcer) as well as soloists Christian Gerhaher and Klaus Florian Vogt. All of the musicians repeatedly mentioned their respect for the audience.
Nagano is thin and straight, and looks younger than his 60 years. He hides behind his long dark hair and mostly speaks French (which he perfected while directing in Lyon 1988-1998) but sometimes breaks into English, which is probably his native language, although I would assume that he also speaks Japanese. He tells a small girl that he became a musician because "his mother told him to at age four." He discusses the rare phenomenon of total silence and the inspirational singing of birds. There are beautiful scenes of Montreal, where he has worked since 2006.
It was interesting to compare this with another documentary about an orchestra, namely, the Berlin Philharmonic on tour in Asia. While the Berlin orchestra film pinpointed three major orchestra members and the director Sir Simon Rattle with all their personal opinions and perspectives, Kent Nagano – Montreal Symphony sticks to music – all facets of music and how it affects the players and the audience. This German-Canadian documentary is a valuable piece of information about an illustrious, but humble, musician and his work in Canada. (Becky Tan)