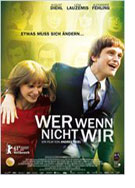 Opening 10 Mar 2011
Directed by: Andres Veiel
Writing credits: Andres Veiel, Gerd Koenen
Principal actors: August Diehl, Lena Lauzemis, Alexander Fehling, Thomas Theime, Imogen Kogge
The charismatic Gudrun Ensslin (Lena Lauzemis) finds her soul mate in fellow student Bernward Vesper (August Diehl). Both are ambitious idealists aiming to lead a meaningful life. They form their own publishing house as Bernward wants to re-publish the works of his deceased father Will Vesper (Thomas Thieme), who was an esteemed poet and Hitler supporter. Bernward admires his father's literary talent but as his own political leanings change towards the left-wing he starts questioning the pro-Nazi literature. When discussing it with his mother (Imogen Kogge), she coldly answers, "If it wasn't for Hitler you weren't even born. Your father did not want a child; it was the The Führer who wanted children". In contrast, Gudrun Ensslin was brought up in a liberal bourgeois household, her father being a man of the church (Michael Wittenborn). He was well aware what was wrong in Hitler's Germany, wishing that things would have developed differently. His daughter thinks he was weak and a hypocrite.
The young couple's life together is troubled by financial problems and Bernward's unfaithfulness. Despite the pressure on their relationship, they get formally engaged and move to West Berlin where their son Felix is born in 1967. Through their political writings they are introduced to the Left Scene. When a newcomer joins their circle, Gudrun is seduced by the good-looking, charming Andreas Baader (Alexander Fehling). He is sparkling with daring ideas, talking of the revolution and at the same time is an amusing entertainer. Bernward has no chance. Gudrun's political writings are now getting more militant and she is yearning for action, even accepting violence. She leaves her child with Bernward and follows Andreas to fulfil her "higher moral obligation" to search for the truth behind the lies: If not us, who?
Director Andres Veiel is well known for his documentary Black Box BRD (2001), dealing with the historical facts of the RAF (Red Army Fraction), earning him numerous prizes. This is his first feature film, which was inspired by Gerd Koenen's book Vesper, Ensslin, Baader – Urszenen des deutschen Terrorismus, focusing on the relationship between the three protagonists. It is Andres Veiel's psychological exploring of the ménage à trois, the intense love story binding them together, that makes this film different from previous RAF movies. He is looking at the beginnings of German terrorism, at the post-Nazi generation with all their political contradictions. Contemporary Germany still feels the trauma of the events that shook the nation.
Gudrun Ensslin and Andreas Baader became two of the most infamous members of the RAF. Both died in prison, committing suicide in 1977. Bernward Vesper had started taking drugs and eventually committed suicide in 1971. His life-long struggle to free himself from his father's Nazi-legacy culminated in his book Die Reise, which was published after his death.
August Diehl portrayed the wretched Bernward Vesper brilliantly, supported by Lena Lauzemis as the head-strong Gudrun Ensslin. Alexander Fehlin convinced as the self-confident Andreas Baader. (He is known for his part in Goethe and became a "Shooting Star" of the 2011 Berlinale). Wer wenn nicht wir received the film prize "Besonders wertvoll". (Birgit Schrumpf)