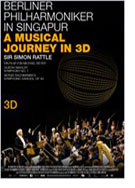 Berliner Philharmoniker in Singapur - A Musical Journey in 3D (Berliner Philharmoniker: A Musical Journey in 3D)
Germany 2011
Opening 20 Oct 2011
Directed by: Michael Beyer
Writing credits:

A new way of listening to a live concert is introduced by filmmaker Michael Beyer with the Berlin Philharmonic Orchestra's performance in 3D. The recording in Singapore is by the celebrated Sir Simon Rattle, the orchestra's principal conductor since 2002.
For the first part of the film you listen to the entire First Symphony of Gustav Mahler, recorded at Singapore's impressive Esplanade Concert Hall. As a viewer you have the best seat in the house and can get totally immersed in the experience of closely watching the performance of individual musicians. The depth of the images is bewildering. Not only do you get close to the musicians and their instruments but are able to watch the face of Sir Simon Rattle communicating with his orchestra.
The second half features Rachmaninov's Symphonic Dances interspersed with pictures of the city, its breathtaking modern architecture and multiplicity of peoples. You see Chinatown, visit a Hindu temple and watch busy crowds. The Singapore Tourist Board is the film's joint investor and therefore one doesn't mind that the scenes taken across tourist attractions feel a bit like an advertising campaign for this interesting city. The switches between orchestra and scenes of Singapore are well timed. Director Michael Beyer and his cameraman and co-director Tomas Erhart developed a theme of "mini stories" based on Rachmaninov's original titles of the movements "midday, sunset, midnight" to work as a visual complement to the music.
This is the first 3D film to focus totally on a concert of classical music and will thrill you with an amazing sound and spectacular images on the big screen. It is a perfect alternative for lovers of classical music who don't have the opportunity or the funds to go to a great performance. You can listen to a first-class concert for the price of a cinema ticket. (Birgit Schrumpf)