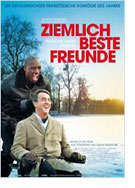 Ziemlich beste Freunde (Untouchable, Intouchables)
France 2011
Opening 5 Jan 2012
Directed by: Olivier Nakache
Writing credits: Olivier Nakache, Eric Toledano
Principal actors: François Cluzet, Omar Sy, Anne Le Ny, Audrey Fleurot, Clotilde Mollet
When Driss (Omar Sy), the tall black guy just out of prison, arrives at the big villa for a job interview, he isn't really looking for work but needs to get his stamp for his unemployment pay. The white, rich aristocrat Philippe (Francois Cluzet) sitting stiffly in his chair is looking for an aide to help with his daily needs. After an accident he cannot feel his body from the neck down. To employ Driss for the task is an unusual choice but he seems bored with the "pale" white contenders and takes the risk. Indeed it is a risk as Driss comes from the poor multi-racial suburbs of Paris; he is not only brash and cheeky but doesn't mind casually steeling a valuable, antique Fabergé egg on his way out.
It turns out that Driss is not only capable but even enjoys the task of looking after this millionaire who dictates poetry and buys modern paintings with "nothing" on it. He discovers a totally new world, but the best of it, he can drive Philippe's fancy car at full speed. Philippe too learns about Driss's world when being introduced to smoking marijuana and a massage by Chinese prostitutes. Instead of Vivaldi he is entertained with a break-dance by Driss with "Earth, Wind and Fire" at full blast. The two men, as unlike as they seem, grow on each other – both are outsiders with an inquisitive mind, but both are also lonely people.
This audacious comedy written and directed by Olivier Nakache and Eric Toledano keeps going at a lively pace with good punch lines which had me laughing out aloud. It tells the story in a realistic, sometimes shocking way when mocking dramatic themes.
What sounds like an idealistic too-good-to-be-true movie is in fact based on the true story of Philippe Pozzo di Borgo, who was left a quadriplegic after a paragliding accident, and his aide Abdel Sellou, an Algerian-born, living in one of the low-class suburbs near Paris.
The small-budget film has been a surprise success in France where 11 million viewers flocked to see it within the first four weeks. Since then it has been sold to 40 countries and the rights for an U.S. remake have already been secured. (Birgit Schrumpf)