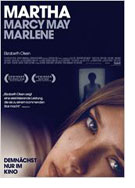 Martha Marcy May Marlene
U.S.A. 2011
Opening 12 Apr 2012
Directed by: Sean Durkin
Writing credits: Sean Durkin
Principal actors: Elizabeth Olsen, Sarah Paulson, John Hawkes, Christopher Abbott, Brady Corbet
The Sundance Screenwriter-Directors Lab in 2010 opened the door for filmmaker Sean Durkin to develop a full-feature film screenplay based on real events linked to being a cult member. His project came to fruition and was selected to debut at the Sundance Film Festival 2011 under the name Martha Marcy May Marlene. Captivated by a personal story from a friend, Durkin thrust himself into a long research project trying to find answers to questions about the realities, the impact and its effect living within the parameters of a cult. Durkin goes one step further to question, "What happens when a debriefing process occurs, if one gets out of that controlling environment?" Prior to participating in the Sundance Lab in 2010, Durkin premiered a short film Mary Last Seen at the Sundance Film Festival 2010. He went on win the Prix SFR (for short films) in the Directors Fortnight at the 2010 Cannes Film Festival. It is not a coincidence that both projects stemmed from his research regarding cult activity in reference to the loss of personal identity. Durkin hit on a topic curious to the world as well.
Love is what Martha (Elizabeth Olsen) was searching for when she met cult leader Patrick (John Hawkes), who ran an isolated, self-sustaining farm in New York's Catskill Mountains. Martha was young, naïve and beautiful. She was not privy to the world's narcissistic individuals seeking to control for selfish gain. She was blind to a destructive side of commune living. Martha was the perfect candidate to be drawn into a tight-knit circle of peers holding to a family code to be available (accountable) for each other day or night no matter what the task or pleasure. She desperately wanted to be a part of a caring family that would replace her biological one who shared little communication or affection for one another. A few years passed and though Martha had been broken of her own desires and thoughts to a certain degree, she knew something was missing and wanted out of the community. Martha's alias cult names Marcy, May and Marlene continued to reinforce in her psyche that she belonged to the group and not her previous life. Struggling to keep true to herself, as well as alive, in order to be able to leave the cult, it still took four long years of putting up with ways Martha instinctively knew were not good before she made her break. She had made several attempts to escape the cult and finally succeeded. Martha mysteriously connects with her estranged older sister Lucy (Sarah Paulson) for assistance in her rescue. The two embark on the realities of a long journey "home" to some kind of normality. Martha's enlightening story is one memorable psycho thriller that is forever haunting. (Karen Pecota)


Second Opinion

Coming out of the cinema, I had this haunting feeling of someone putting their hand on my shoulder, as I turned I realized how much of Durkin's psychological thriller film had shifted its way under my skin. Elizabeth Olsen's outstanding performance of a damaged woman suffering after living in a cult family in the Catskill Mountains shows the character-breaking skills used by the charismatic leader Patrick (John Hawkins). The commune helps him break down Martha's psyche first by changing her name from Martha to Marcy May or sometimes Marlene, and then introducing their philosophy which includes a brainwashing mixture of strict communal rules, the break-down of normal society's rules and allowing her to be sexually violated but at the same time rejoicing in the event. It is always a mixture of positive/negative responses where the victim remains either confused or passive to the events which are happening around him/her. As she escapes from this community she has a feeling she will never be free from them. This instinct becomes more pronounced when she attempts to reunite with her only living relative, her sister. Although her sister tries hard to reach her, Martha is unable to reveal the truth of where she has been. She also suffers from blackouts and tiredness; she blurts out strange ideas and has lost all sense of normal boundaries. The film hit me harder then I expected since I have a friend who escaped from a cult in her twenties and has never completely recovered from the psychological damage that had happened to her back then. Durkin's film captured perfectly this horror, even to the point that at the end we as the viewer will never be able to know what is reality or a paranoid vision.
After the film we were asked to make our comments and as I tried to formulate my thoughts about the film I was corrected both by the German writer and by my colleague Thelma (who has lived in Germany a long time) on the word choice of cult. Sect is the correct word for them but my feeling was the word cult. The longer I live here in Hamburg the more I realize that my language skills become a mixture between German and English, especially when it comes to my word choice to the point that I feel somewhat insecure. So have I lost myself in this cultural exchange? After reading Karen Pecota's review on this film (see above) where she used the word cult I decided there seems to be some differences between these two words that are not easily separated. I found out that this concept of cult is a relatively new idea dating back to 1932. In Wikipedia, the American socialist Howard P. Becker tries to clarify by expanding on the German theologian Ernst Troeltsch's church-sect typology which was to describe three religious behaviors: churchly, sectarian and mystical. The fourth behavior is cult which is smaller religious groups lacking in organization and emphasizing the private nature of personal beliefs. So basically the word refers to a group of individuals whose practices are considered abnormal and can even reflect the exploitation of authority and cause psychological damage. The word sect as seen above describes a religious group with set religious, political and philosophical beliefs. So my intuition was right to want to use this word cult; however, for many other languages the word sect is used for both and perhaps that is why sect seems correct for those who have lived here a long time in Germany. Who knows; probably after living 20 more years here in Germany, I will want to use the word sect over the word cult. (Shelly Schoeneshoefer)