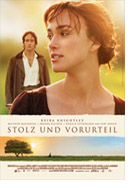 Stolz und Vorurteil (Pride & Prejudice)
U.K. 2005
Opening 20 Oct 2005
Directed by: Joe Wright
Writing credits: Deborah Moggach
Principal actors: Keira Knightley, Matthew MacFadyen, Brenda Blethyn, Donald Sutherland, Tom Hollander
Set in England in the late 1700s, Jane Austen's well-known classic is the story of five sisters on the hunt for husbands who can ensure the financial security of the family. Although the traditions portrayed in the film are somewhat old-fashioned, the story is timeless – young love, broken hearts, mistaken impressions, scandal, but above all, happy endings.
She's only 20 years old, but Keira Knightley is already a force to be reckoned with on the screen. I don't image there are too many actresses her age that could "win" an argument with Judi Dench, no matter how the script has it. She truly shines in this role of Elizabeth Bennett, a character to whom every woman can relate, especially those of us who, against our better judgment, are often attracted to arrogant men.
Matthew MacFadyen as Mr. Darcy, on the other hand, isn't quite able to show the depth of his character as well as Colin Firth could in the same role for the TV mini-series in 1995. However, thanks to Ms. Knightley's expressive portrayal, the love story is nonetheless believable.
The movie drags along at times, but perhaps purposefully so, because when love is unrequited (or believed to be), the days do tend to crawl at an unbearably slow pace. These moments were able to create a bit of suspense in an otherwise well-known, predictable plot.
The supporting actresses portraying the Bennett sisters were well cast, especially the angelic Rosamund Pike as Jane, the eldest. One wonders why Donald Sutherland would take such a bit part as Mr. Bennett until his very touching scene at the end. Aside from the acting, another reason to see the film is to plan your next vacation to the English countryside. The scenery, filmed entirely on location in England, was breathtaking! Yet another plus was the musical score, as every cultured lady simply must play the piano. (Alyssa Cirelli)