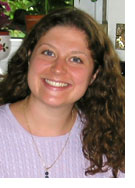 Alyssa Cirelli
For a girl who grew up in the middle-of-nowhere, Arkansas, Alyssa has always made decisions that tend to give her life a bit of dramatic flair. She grew up with the princesses from classic Disney movies as her role models and parents who told her that anything was possible. Bigger and better and far, far away seemed to be the road to Happily Ever After.
When Alyssa's Prince Charming turned out to be a German aerospace engineer, she got the "far, far away" part covered. With another one of those dramatic decisions, she moved to Hamburg in October 2003 to live out her storybook romance.
When the hardships of living abroad sometimes get her down, Alyssa finds an escape at the movies. And more importantly, the friends she has made among her highly creative and high-spirited fellow film reviewers have been inspirational. She is grateful for the chance afforded her in this critic's role, and takes the opportunity to see not only the mainstream films which keep her connected to pop culture back in the US, but also international and art-y films which continue to broaden her horizons.
Contact Alyssa Cirelli at Alyssa.Cirelli@KinoCritics.com
Films Reviewed by Alyssa Cirelli