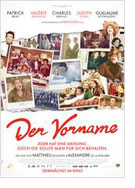 Opening 2 Aug 2012
Directed by: Alexandre de La Patellière
Writing credits: Matthieu Delaporte
Principal actors: Patrick Bruel, Valérie Benguigui, Charles Berling, Guillaume de Tonquedec, Judith El Zein
Most of the action is confined to a Parisian apartment. Élisabeth (Valérie Benguigui) and her professor-husband Pierre (Charles Berling) have invited her brother Vincent (Patrick Bruel) and his pregnant wife Anna (Judith El Zein) for dinner, joined by their long-time school friend Claude (Guillaume de Tonquèdec). They all have known each other for the last 30 years and feel at ease. Anna has not yet arrived but Vincent, proud to become a father, shows a photo of the baby's first scan. The friends start teasing him, wanting to know what the name of the "boy" is going to be. With a mischievous smile he tells the name. Stunning silence follows his announcement – then all hell breaks loose. How could he, what is he doing to the child, what will the rest of the family think? This only shows the tip of the iceberg and is the start of a heated exchange of words, which become as comical as they become insulting. No subject is spared, no person either. Anna arrives with a large bunch of flowers, unaware of the foregoing conversation. The beautiful pregnant blonde does not stay cool for long when being drawn into the action and is quick to show her temperament too.
Allegiances are formed and reconsidered just as fast as the themes change and the tempo picks up. You will not be bored by this team of exceptional actors whose characters still remain likeable despite all the bickering. But this farce is not only funny. The play also says a lot about family hierarchy, the strong bond of friendship or one's expected social behaviour – and it also can be seen as a reflection of French society.
David Ungaro's camera captures the "left-wing bohemian" atmosphere perfectly which has been lovingly created by well-known set designer Marie Cheminal. The music by Jérôme Rebotier, including some Richard Wagner, is sparingly used to its best effect. The lovely Francoise Fabian (My Night at Maud's) has a guest appearance.
After 250 live performances of The Prénom at the legendary Théatre Èdouard VII in Paris, Mathieu Delaporte and Alexandre de la Patelliere adapted their play for the movie and also directed it. All theatre actors, except one, took over their roles. It worked out a well-acted, amusing and utterly enjoyable film. (Birgit Schrumpf)