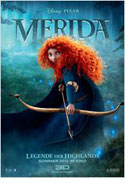 Merida - Legende der Highlands (Brave)
U.S.A. 2012
Opening 2 Aug 2012
Directed by: Mark Andrews
Writing credits: Brenda Chapman, Mark Andrews, Steve Purcell, Irene Mecchi
Principal actors: Kelly Macdonald, Billy Connolly, Emma Thompson, Julie Walters, Robbie Coltrane
Pixar Animation Studios presents its first film starring a female lead, its first historical film, and its first adventure staged in a world inhabited by humans. Direction and script are by Mark Andrew, Brenda Chapman, and Steve Purcell and their results are well worth your time and money. Many children were invited to the press showing, and the young boys I interviewed said, they liked "the suspense, the action, and the battles." The fact that the lead is a teenaged girl named Merida was fine with them.
Girls will identify with Merida. As a two-year-old she is more of a walking red wig than a real child. By her teens, she has developed into a tomboy, still with mounds of red hair but now an expert equestrian on her black horse Angus; she shoots arrows in full gallop. She copes with the usual mother-daughter conflicts. Her mother, Queen Elinor, who runs the castle and everything in it, announces that the time has come for Merida to choose a husband. She invites three neighboring lords: MacGuffin, Dingwall and Macintosh, to present their eldest sons. They will compete in the Highland Games, and the winner gets the hand of Merida. She, smarter than any of the lads, announces that, since she is also the eldest (with small triplet young brothers: Harris, Hubert and Hamish), she will also compete for her own hand. They will shoot bows and arrows. Naturally, she wins.
After a huge fight with her mother, she rides away thinking that her fate is "to change my mother." She meets a witch in a little cottage in the woods (where are Hansel and Gretel when you need them?). This hag gives Merida some magic cake to feed her mother (shades of Snow White). One bite and Queen Elinor turns into a huge bear. Unfortunately, her husband, King Fergus, has a thing about bears ever since the ferocious Mor'du, left him with only one leg after hand-to-paw combat. It's a mess, and Merida has to sort things out before worse tragedies occur.
In the end the prospective grooms agree that each person should have the right to pick his own spouse. The families are no longer rivals. Merida has learned that fate lies in her own hand, pride leads to a fall and she must tie the knot of understanding. The biggest change occurs in Elinor who seems 20 years younger, more of a sister than a mother, ready to explore the world with her daughter.
We all went out of the cinema smiling. The story, in 3D, is a fairy tale built on familiar fairy tale configurations, but leaves out any sort of Prince Charming who would only be foolish in this group. At the same time it is completely original and inspiring and exciting. The Scottish music (by Patrick Doyle) is perfect; the scenery (copied from real areas in Scotland, e.g., Edinburgh, the Standing Stones of Callanish, Eilean Donan Castle, Dunnottar Castle, Glen Affric, etc.) is lush and alive. The three small brothers are good for comic relief; the father is good-hearted, although a bit of a bumpkin.
Brave is dedicated to Steve Jobs, a significant founder of Pixar. This is absolutely recommended for the whole family. And if you can't get enough, watch for the computer game, dolls, books and costumes. (Becky Tan)