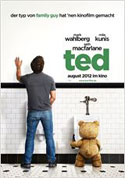 Opening 2 Aug 2012
Directed by: Seth MacFarlane
Writing credits: Seth MacFarlane, Alec Sulkin, Wellesley Wild
Principal actors: Mark Wahlberg, Mila Kunis, Seth MacFarlane, Joel McHale, Giovanni Ribisi
Little John has no friends. He is bullied and all alone. His parents give him a teddy bear for Christmas which changes his life forever. Now he has the perfect friend, if only it could talk. Nobody is surprised when Ted begins to speak. Perhaps John's parents are surprised, but they get over it and Ted appears in all the talk shows. Twenty-five years later Ted is no longer front-page news. He is just an older teddy bear who lives with John (Mark Wahlburg). Together they watch TV, take drugs, smoke, hang out and act as juvenile and irresponsible as if they were still five. Along comes a stabilizing influence in the form of Lori (Mila Kunis), John's girlfriend, who moves in and demands that John shape up. This is difficult because John is addicted to Ted, who wields a huge influence. In the end, John must decide between the teddy bear and the girlfriend, which leads to Ted reluctantly moving into his own apartment. He goes to work in a supermarket and also has a girlfriend: blond Tami-Lynn (Jessica Barth). Still, Ted and John never really disconnect, in spite of serious, even physical, quarrels. At the same time a mysterious man wants to buy (and eventually kidnap) Ted for his son.
The topic: Guys Try to Grow Up, seems to be popular these days, e.g., Jeff, Who Lives at Home; Our Idiot Brother; even The Amazing Spider Man, and this film falls right into this category. Will John ever grow up; can he live without his bear? Naturally, all ends well, but still this is not a predictable film, but truly original and amazing, simply because of Ted. The animation is so perfect that he seems like a real person who can definitely hold his own and even act Mark Wahlburg into a corner. Ted has human facial expressions, a sassy way of walking, and an even sassier way of swearing and telling us how it is to our faces, bad-mouthing gays, blacks, Jews, women, the handicapped, persons of respect, you name it, every group gets blasted sooner or later – no holds barred. Perhaps we love him as much as John does, because he is our alter ego, spitting it out when we wouldn't dare.
Seth MacFarlane not only directed and wrote all the juicy words; he is the voice of Ted. It's probably common knowledge by now that MacFarlane is the originator of the TV series called The Family Man. This, his first feature film, was filmed around Boston and, in spite of a few sour words from the critic of The New York Times, it took off at the U.S. box offices racing past the competition (Magic Mike); financial results are being compared to the first Hangover film which broke many records. This is much fun, a chance to relax and laugh, to remember your own teddy bear languishing in the attic and even to see Norah Jones in concert if you missed her Hamburg performance on July 17. (Becky Tan)


Second Opinion

The ploy of infusing humanistic qualities into a stuffed animal smacks too much of trying to imitate The Beaver, albeit totally devoid of a good script, likable characters, and notable acting. Throughout Ted writer and director Seth MacFarlane's humour bleats at his audience with crude, dated, and repetitious drivel such as: fart, jerk off, chicks, wanker, etc.
John (Mark Wahlburg) and Ted (Seth MacFarlane, voice) may have been kid-buddies, but as adults Ted's self-centered and overly indulged behaviour turns his "friendship" with John into one smacking more of masochism. Girlfriends' Mila Kunis (John's) and Jessica Barth's (Ted's) bimbo-like characterizations illustrate equally unkind handling from MacFarlane. Unlike Ruby Sparks, oozing with fantastical, imaginative sparkle, Ted is a trite wannabe copy: with a baseline using predictable juvenile jokes of the lowest denomination, this critic wonders, who was the film's target group? (Marinell Haegelin)