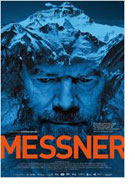 Opening 27 Sep 2012
Directed by: Andreas Nickel
Writing credits: Andreas Nickel

Reinhold Messner is the first man to reach Mount Everest (8,848 m) without an oxygen flask in 1978 (together with Peter Habeler). He is also the first person to have climbed all fourteen mountain peaks above 8,000 metres. Many articles and books have since been written. Therefore, why another film about Messner? Filmmaker Andreas Nickel was interested in the background of this exceptional mountaineer, adventurer and rebel. What are his motives, what drives him on?
The film starts with a breathtaking aerial view over snow-covered mountain peaks of the Himalayas. As the camera zooms in we see a tiny black spot turning into a man climbing the steep, blinding white wall of ice. But this documentary is not only about the successful and daring alpinist but also shows a man coping with failures and private drawbacks. Born in 1944 in a small village in South Tyrol as the second son of a family with nine children, Messner wanted to look beyond the high mountains surrounding him. The re-enacted scenes of his childhood explain the formative early years. He talks about his strict father, a loving mother, the boarding school years away from family and how his younger brother Günther became his closest climbing partner.
When invited to join an expedition to the Nanga Parbat (8,125 m) in 1970 he asks to include his brother in the team. Both make it to the summit but when the weather turns bad Günther (aged 23) gets behind and is lost in a snow storm. After six days, making the arduous descent without having found his brother, Reinhold reaches the base camp totally exhausted and with severe frostbite. Six of his toes have to be amputated. The unique archive material is mixed with interviews of climbing companions, three Messner brothers and a former doctor girlfriend.
All filming was done on original locations from the Dolomites to the Himalayas, where the camera sweeps along the entire range up to a height of 8,300 metres. The sophisticated equipment with gyroscopic stabilizer provides clear, crisp pictures giving a totally new perspective. One almost feels being engulfed in the immense sea of gigantic snow-capped peaks never shown like this before.
The young man Reinhold Messner is played by Florian Riegler, climbing the steepest walls with only the "primitive" equipment of the 1970s or balancing on some precarious mountain ridge. Fascinating to watch! Suspense is added when he slips down a crevice only dangling on a rope around his waist. The viewer gets truly involved in a world of snow, ice and hardship.
After Messner conquered his last Himalaya peak in 1986, he then walked across the Antarctic (1989/1990), Greenland (1993) and the Gobi Desert (2004). He now lives in Juval Castle in Tyrol, which he transformed into a museum. Besides beautiful cinematography of majestic scenery by Irmin Kerck and Denis Cucroz, the film is a sensitive portrait of a remarkable man, a pioneer who calls himself "conqueror of the useless". (Birgit Schrumpf)