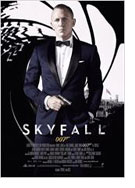 Opening 1 Nov 2012
Directed by: Sam Mendes
Writing credits: Neal Purvis, Robert Wade, John Logan, Ian Fleming
Principal actors: Daniel Craig, Judi Dench, Javier Bardem, Ralph Fiennes, Naomie Harris
James Bond is back in Skyfall, an exciting and invigorating new addition to the movie series. When M (Judi Dench) makes a judgment call that leads to an important assignment going terribly wrong, hundreds of undercover agents are compromised. With her authority and judgment severely questioned by Mallory (Ralph Fiennes), the new Chairman of the Intelligence and Security Committee, she is left with only one ally: Bond (Daniel Craig). M must face the mistakes of her past and try to stop the mysterious Silva (Javier Bardem) from causing more havoc.
The focus of the film is on M's choices, and how espionage and spying fits in with the modern world. She is a creature of the past, and with the terrorism in this film being primarily technological in nature, the question is raised as to whether the Ms and the Bonds of world are needed any longer. As Bond consistently fails a series of fitness tests, a new, young, technologically savvy Q is hired. The film's major theme is the juxtaposition of old and new, and this also relates to the normal Bond tropes as well.
Skyfall is an exceptional example of an action film. Coming from a long line of predecessors, it does not sit on its laurels, but rather changes things up by reverting back to its strengths. Casino Royale (2006) and Quantum of Solace (2008) were something of a reboot. There was the four year period between Die Another Day (2002) and Casino Royale (2006), and Daniel Craig represented a much more crude and masculine version of Bond, as opposed to debonair and stylish. The fun, dynamic character of Bond was replaced with a much more realistic killer. Some familiar characters were removed (such as Q and Moneypenny), and the general style of the movie changed to something darker.
With Skyfall Bond is brought back to his roots both metaphorically and literally. Without revealing to much, it is safe to say that Bond must travel back to his home from before he became a spy, and in doing so his tragic back story becomes a bit clearer. Metaphorically Bond is brought back to his roots in a couple of ways. The storyline of Casino Royale and Quantum of Solace focused on the story of love and revenge, one that is not generally typical of a Bond movie. With Skyfall there is a new story (which is not based off of an original Ian Flemming novel), but the original themes of a typical James Bond film are reintroduced. Some beloved characters come back, as well as the typical Bond formula. The final scene really harkens back to some of the classic movies which was absolutely lovely to behold.
Skyfall is a great addition to the Bond series, and certainly should be on your list of films to watch. Particularly impressive is the acting job of Javier Bardem who steals his few, but surprisingly humorous, scenes. If you are a fan of James Bond movies, both old and new, then this is the movie for you to go see. (Rose Finlay)


Second Opinion

Sam Mendes is a worthy director (American Beauty, Perdition), although his forte is clearly not action films. Equally obvious, he had no help from the scriptwriters' whose plot has beaucoup major problems – meandering storyline, lame lines, holes big enough to drive a tank through, a weak villain – culminating in an ending so incredibly inane, I still wince thinking of the disparities, the aged Daniel Craig. The first half, boringly tiresome hence I thought I was in the wrong theatre, is more atypical of Mendes: his handling of the convoluted – writers' fault – relationship between M and Bond; new were the flawed, slipshod scenes. Skyfall is a contrived addition to the new generation of James Bond 007 films, where imagination has been relinquished in an attempt at realism, resulting in pathetically ordinary films.
Gone is the highly inventive, unattainable, intriguing world with its fast-moving spy thriller mood, and a style that included doses of science fiction, glamour, cheeky dialog, suspense, and of course, Bond always always got the best of everyone, and, the sexy girl (she's nowhere to be found here). The signature gun barrel sequence at the beginning (OK, perhaps passé, but better than a car chase leading to tedium) and that wonderfully tantalizing "James Bond Theme" song made audiences anticipative of stepping out of reality; since 1962 we loved accompanying James everywhere. Befuddling to me then, is why turn a winner into a third-rate hackneyed spy flick. Once, "Bond is back!" meant something to look forward to. Instead, this century's James Bond 007 movies have mainly gone from lackluster to bad, therefore no surprise if Ian Fleming is spinning in his grave. (Marinell Haegelin)