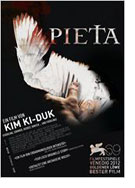 Opening 8 Nov 2012
Directed by: Ki-duk Kim
Writing credits: Ki-duk Kim
Principal actors: Min-soo Jo, Eunjin Kang, Jae-rok Kim, Jung-jin Lee, Jin Yong-Ok
If you are going to watch any Ki-duk Kim film you don't expect a run-of-the-mill, but with his newest creation (his 18th film), you are confronted with some extreme ugly and emotionally haunting scenes. A gruelling darkness prevails through most of the film but unexpectedly, it ends on a note of reflection and hope.
Straight-faced Lee Kang-do (Lee Jung-jin) is a pitiless money collector, a young man in his early 30s. His impoverished clients work in small machine shops in a crowded industrial slum of Seoul. When these poor workers cannot pay their loan, he just cripples them in order to collect the insurance claim. He does not hesitate to cut off a hand or brutally break a leg. Our hero (or rather anti-hero) moves with an unnerving calmness about his task. One young worker is desperate to receive a fresh loan so that he can afford to feed his new baby. He even offers one of his limbs. In contrast, an old man, who can foresee the modern developers soon to overrun the small traditional shops, climbs up a high building to throw himself to his death, laughing into the face of Kang-do, who shouts at him that "death messes up the claim". Is life all about money?
One day Kang-do is stalked by a beautiful, sombre woman (Cho Min-soo) who claims to be his mother. She begs forgiveness that she deserted him as a baby. He is suspicious, angrily kicking her off his steps. When she refuses to leave, he violently rapes her (very difficult to watch!). She still persists, following him, observing his evil doings. Determinately, she eases her way into his life, cooks for him, smiles and keeps him company. A change in the behaviour of this unfeeling, violent loner can be noticed. His façade is cracking. The young man, who has never known tenderness in his life, develops an attachment to the motherly woman. This is when the story gets an unforeseen twist, leading into a completely different direction, a psychological study. In the end, it even becomes melancholic and mournful. Is it a story of revenge or of forgiveness?
When I saw the film at a press viewing, some of my colleagues left the cinema after 20 minutes. I had to close my eyes from time to time to avoid watching the disturbing brutalities. But I was far too curious to find out where the action would lead to. In fact the action is very slow; a lot of the violence is suggestive and leaves space for your imagination. I could have done with less brutality but the story – as well as watching the fascinating Cho Min-soo – kept me totally engrossed till the very end.
The Korean director Ki-duk Kim presents two main themes, the value of money in our society, making you aware that "everything has its price" and the question of revenge, of love and forgiveness.
The film won the Golden Lion award at the 69th Venice International Film Festival. At the 20th Filmfest Hamburg Ki-duk Kim received the Douglas Sirk Prize for his life's work. (Birgit Schrumpf)