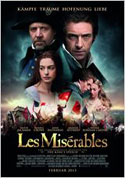 Opening 21 Feb 2013
Directed by: Tom Hooper
Writing credits: William Nicholson, Alain Boublil, Claude-Michel Schönberg, Victor Hugo, Herbert Kretzmer
Principal actors: Hugh Jackman, Russell Crowe, Anne Hathaway, Amanda Seyfried, Sacha Baron Cohen
Les Miserables is a spectacular film rendition by director Tom Hooper of the beloved musical based on the classic novel of the same name by Victor Hugo. Set in the early 18th century, Jean Valjean (Hugh Jackman) is released from prison after serving 19 years for stealing a loaf of bread for his sister's starving child. After receiving help from a kind Bishop (Colm Wilkinson), he breaks parole and decides to start his life anew, but finds himself relentlessly tracked by the police inspector Javert (Russel Crowe). Years later, on the cusp of the June Rebellion of 1832, Valjean and Javert meet again and find themselves, and countless other characters, thrown into the turmoil of the student uprising.
While Les Miserables is an excellent version of the musical, its execution stops it from being a truly excellent film. It can almost be said that Hooper created too faithful of an adaptation. There is definitely a point in the middle of the film, where one can feel that there should be an intermission (after the song "One Day More"), but instead of taking one (in the style of several older films, which would have been interesting technique), Les Miserables just drags on to the next part. The problem with this is that it ignores the pitfalls of translating a musical to the silver screen, which is primarily one of pacing. The traditional format of a musical is to start off slowly and then build to the intermission, and then start off slowly after the intermission and build to the final climax. This is fine when there is a break, but without an intermission the story begins to seriously lag in the middle, which for a 2.5-hour-long film can be a considerable issue.
While Hooper's choices involving the pacing of the film were not the best, the decision to record the actor's singing live led to some incredibly heartfelt performances of the roles. Anne Hathaway stands out as particularly stunning in her portrayal of the tragic Fantine. Instead of going for the traditional belted version of Fantine's most famous song "I Dreamed a Dream" (à la Patti Lupone, Randy Graff, Lea Salonga), Hathaway brings forth desperation and tragedy of the lyrics. Hugh Jackman also does a decent job of portraying the lead Jean Valjean, although at times his performance lacks depth. In such an exhausting role, this is not surprising. Also of note are the amazing singing performances of the men at the barricade (Aaron Tveit, George Blagden in particular). The most disappointing performance is that of Russel Crowe's Javert, who makes one of the biggest rookie mistakes of being in a musical which is connecting acting with singing. In a musical such as Les Miserables where all dialogue is sung, this is incredibly important. However, in general Crowe's performance fell flat. The over-the-top performances of Sacha Baron Cohen and Helena Bonham Carter were good for a handful of laughs, but failed to impress in the long term. Amazingly, out of such a huge cast of actors, the majority succeeded incredibly well, and that, in turn, makes the film worthwhile.
As an adaptation of one of the most famous and loved musicals of recent times, this version is an outstanding success. The amount of talent that emerged in the film was amazing. The nods to the musical (such as Colm Wilkinson, the original Jean Valjean, playing the bishop) were particularly nice additions. While the issue with pacing may cause problems for new viewers, true fans will undoubtedly find this to be an acceptable version of the musical. However, there is much to love for new and old fans alike, so take the time out of your busy schedule to go and enjoy some amazing singing and culture. (Rose Finlay)


Second Opinion

Life's a bitch, first you sing, and then you die. Les Misérables is not a happy film. You don't leave the movie theater with a song in your heart. Yet you are awestruck by the intense performances of the actors filmed in absolutely brilliant close-up and uncut sequences. Victor Hugo might just roll over in his final resting place in the Panthéon in Paris straining to listen to a very moving Anne Hathaway (Fantine) singing I Dreamed a Dream. His republican heart strings would be moved by the dazzling singing performance of Hugh Jackman (Valjean). And we thought Jackman was just a handsome face. Hugo would have approved of Russell Crowe (Javert), not so much as a singer, but obviously he did try hard and was so easy to despise. Might the two Australian male leading men give hope to a dying, that is, dead man, that a nation, founded just 16 years after his demise, could render two such manly men displaying so much raw emotion?
The whiff of Oscars is in the air, especially for Hathaway and Jackman (whose son is coincidentally named Oscar). If there were those golden statuettes exclusively for kids, Isabelle Allen (the young Cosette) and Daniel Huttlestone (the street urchin Gavroche) would most certainly have been nominated. There may be some consolation for both Hathaway and Jackman if they don't win Oscars. Weight Watchers will undoubtedly give them special awards in recognition of all the pounds they shed to look wretchedly thin and malnourished in their starring roles.
I wanted to like it. There is much to admire. My goodness, can Anne Hathaway simultaneously sing and suffer, and all in one take. Hugh Jackman is both a gifted singer and actor despite being named People Magazine's "Sexist Man Alive 2008." France in the early 19th century was magnificently brought to life through both authentic and sometimes monumental sets and realistic and sometimes depressing costumes/make-up. The romantic song Suddenly was written especially for the film, and is touchingly sung by Jackman (Valjean) to the child Cosette. Les Misérables is an epic film. After sitting there for 157 minutes one word sprang to mind. Elation, no. Exhaustion, well, that's getting warm. Please don't make me say it. All right, I must. I did feel just a little bit…..Miserable. (Pat Frickey)