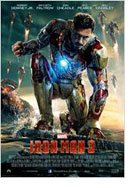 Opening 2 May 2013
Directed by: Shane Black
Writing credits: Drew Pierce, Shane Black, Stan Lee, Don Heck, Larry Lieber
Principal actors: Robert Downey Jr., Gwyneth Paltrow, Don Cheadle, Guy Pearce, Rebecca Hall
Whereas Iron Man 2 tilted toward mediocrity – more action than story – Marvel's back on course with Iron Man 3. In true comic book spirit, the film unleashes new villains, illusions and sci-fi technology, flip humor with zingy one-liners that offset any gory onscreen tension, and even the 3D effect is used to a credible advantage. Now established with the American government and populace as the Iron Man, their crime-fighting friend and hero, brilliant, eccentric industrialist Tony Stark (Robert Downey Jr.) concentrates on developing new "cutting edge play toys" at his cliff-hanging Malibu home. Pepper Potts (Gwyneth Paltrow), his onetime executive secretary is in charge of Stark International, and the love of his life. Life is good, until terrorist extraordinaire Mandarin (Ben Kingsley) enters the world stage.
Ever brash, Tony taunts the Mandarin and suddenly finds himself devoid of personal possessions, resources, and far from home. Even Jarvis (Paul Bettany, voice) is too weak to respond. A youngster discovers Tony in his mom's garage, and after striking a bargain Harley (Ty Simpkins) helps Tony: "you're a mechanic, why not just build something"? So despite his angst over what happened in New York (The Avengers, 2012), Tony pulls himself together. With his ingenuity totally concentrated and his survival instincts honed, and using basic hardware store items, Tony sets out on a course of retribution. Unbeknownst to him, these newest nemeses are monsters he unwittingly created years ago: the subterfuge lay with Aldrich Killian (Guy Pearce), the originator of the privately funded organization A.I.M. (Advanced Ideas Mechanics), and Dr. Maya Hansen (Rebecca Hall). The net widens, and longtime buddy Lt. Col. James "Rhodey" Rhodes (Don Cheadle) eventually helps Tony deliver, albeit in increments. At the end of the day, Tony finds the answer to what he has asked himself – is it the suit that makes the man, or the man the suit – since donning the iron armor years ago in Afghanistan.
Since taking over control of its movie slate in 2005, Marvel Entertainment (a Disney subsidiary since 2009) has propitiously developed their superhero comic book characters – Iron Man, Spider Man, the Incredible Hulk, and Thor – while also developing stories whereby the superheroes join forces, yet retain their distinct personalities. Shane Black's (Lethal Weapon, Kiss Kiss Bang Bang) sequel contains exceptionally well-balanced doses of humor, drama and action with deftly placed surprises, and reenergizes the Iron Man. Downey Jr. is at his best – tough, vulnerable, sweet, and full of vim and vigor – as is the entire cast. Everyone involved in this production deserve kudos, so pay the extra 3D price of admission, and hang onto "the mechanic's" heels for an unforgettable trip. (Marinell Haegelin)


Second Opinion

Flying in hot on the heels of the success of Joss Whedon's The Avengers (2012) is Iron Man 3, the continuing story of playboy inventor Tony Stark's (Robert Downey Jr.) adventures in his high-tech suit. Tony learns a lesson about how the decisions he made in the past can come back to haunt him when the terrorist the Mandarin threatens the world and nearly destroys Tony's life. Following a devastating attack at his home, Tony must use his smarts to rebuild and try to uncover who the Mandarin really is before he has time to wreak more havoc.
Iron Man 3 is a clear attempt to remake the movie magic that occurred with the extremely successful Avengers. In fact, it follows the same essential formula. First, there is the villain who has a rather lame reason for being so evil. Said villain then goes and terrorizes the world. Villain destroys the superhero's home base requiring it to be rebuilt and making the superhero want to seek revenge. Meanwhile, the villain continues with his dastardly plan to kill people. Villain's huge amount of henchmen then attack the superhero, and are eventually overcome by a deus ex machine-type ending. Iron Man 3 follows this Avengers formula perfectly, and comes out with a similarly entertaining, yet weak-plotted film.
Perhaps the biggest issue is that the villains seem to have little-to-no real motives for their actions. For example, the Mandarin's henchmen all seemed to have been normal individuals prior to meeting him, but then become mindless killers all because he helped them. At first, I believed maybe this was a consequence of the experiment that had been performed on them, but later it is shown to not be the case. Another example is the motivation of the Mandarin himself. His beef with Tony Stark can be compared to a nerd holding a grudge against the kid who stole his lunch money in the fifth grade. Yes, the bully was mean, but it doesn't seem to logically lead to wanting to murder him in the future, or wanting to murder large amounts of random innocent people.
However, for some reason (much like in The Avengers), this does not detract from how enjoyable the film was. Perhaps this is because action films are not expected to be particularly deep. Or maybe, it is such a step up from the rather terrible Iron Man 2 that all the minor issues are immediately forgiven. Regardless, it is certain that this film will make a positive impact on the majority of viewers and will undoubtedly be quite popular. It will be interesting to see whether the future Marvel superhero films will follow the same formula, and how long it takes before the audience gets bored with watching the same film over and over again. That being said, it is not old yet, and Iron Man 3 is a perfect popcorn film that this critic is looking forward to watching again. (Rose Finlay)