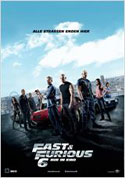 Opening 23 May 2013
Directed by: Justin Lin
Writing credits: Chris Morgan, Gary Scott Thompson
Principal actors: Vin Diesel, Paul Walker, Dwayne Johnson, Jordana Brewster, Michelle Rodriguez
This film definitely delivers what it promises: it's so fast and furious, you forget to breathe. Never mind that illegal, intercity car racing endangers innocent citizens. This is the sixth in a film series which started in 2001. Expectations are high for F&F6 to be hugely successful, considering that F&F5 set a new record for tickets sold worldwide, unheard of for a fourth sequel. There must be something to it.
Since we last saw Part 5 (or not, depending on your groupie status), friends Dom Toretto, Han, Mia, Roman, Brian, Tej, Riley, Gisele, etc., have collected their millions from their last coup and gone separate ways to the Canary Islands, Hong Kong, or Costa Rica. Roman seems to live in his private jet marked "It's Roman, Bitches," where he is surrounded by same. Soon, an enormous threat posed by Owen Shaw and his henchmen requires them to regroup, especially since the FBI is overwhelmed and needs their help, big time. They realize that their partner Letty, Dom's former girlfriend, has, unconsciously, joined the gangsters and now works against her friends. She must be rescued.
The storyline is typical for the series and, also, totally unimportant. We would believe anything, simply because we are awed by the fancy cars, the speed, and the bald-headed, tattooed hunks of testosterone. The beautiful, emancipated girls are equal to the men in their ability to put on a good hand-to-hand combat show. Supposedly, real fans have a favorite character, and, in my case, I'll go for the Asian Han – at least he has lots of hair. In spite of their toughness, all members of the group consider themselves family, and now Mia and Brian have even produced a baby named Jack. This family feeling makes them human; they have a soft spot for each other, are loyal and true. Although working outside of the law, they and the FBI team led by Luke Hobbs have mutual respect for each other.
It's quite necessary to soak up every movement on the big screen – no teeny TV option here. The music is appropriate. The stunts are mind-boggling and require seven minutes of credits at the end of the film. Filmed in Glasgow, Liverpool, London, Tenerife and Los Angeles, these good two hours of action provide an escape from our own mundane problems. Here we can cheer for the good guys and wish the bad guys horrendous car accidents. Naturally, if you hate noise, disaster, and boxing in general, no matter how professionally portrayed, you will be dissatisfied. Go see The Great Gatsby instead; although here, too, there are fast cars, if about 90 years older. (Becky Tan)